Day 2 in sunny Cancun. Its a breezy, yet warm day and I managed to squeeze a quick swim in the sea before the days presentations began. Again, putting the work from anywhere mantra to the test......beach side.
The day started with Gavriella Schuster's DEI workshop, discussing how we can become allies and be more aware of our people and surroundings and the role we can play in ensuring we create inclusive and collaborative work environments for everyone we work and interact with.
After more quick pitches from the sponsors, Kam VedBrat from Microsoft gave us a end to end overview and update on the AVD platform. Opening up with the vision for Secure, modern desktop experiences for anyone, using any device anywhere, optimised for teams and o365, something that was reinforced by client testimonials from the likes of The Imperial College about how AVD has enabled them to address their remote working and desktop delivery requirements.
It was interesting to hear that Microsoft are "eating their own dog food" relying on AVD for remote engineers and new starters, particular in the early stages of Covid-19; Microsoft supports 20,000 of their own workforce on AVD.
Kam's presentation re-iterated the main use cases for the technology:-
Hybrid working / Working from Anywhere
Data security
High capacity computing (CAD/CAM etc) - such as the work we've done with Bedford Pumps.
Bring your own PC/device scenarios
Disaster recovery
Providing corporate access to temporary workforces or contractors
Providing a method to integrate workforces in a merger and acquisition scenario.
Kam shared the latest developments with the platform and its very evident that like W365 the investment in the technology is significant with the service now available in 60+ regions, meaning that regardless where people are in the world, they can work using AVD.
Latest updates were shared, notably:-
Support for windows 11
RDP short path which improves connection reliability and latency for critical apps
Azure AD joined VM's
Screen Capture protection keeping the data inside the VM
Azure Resource Manager Migration
Start VM on Connect improving cost efficiencies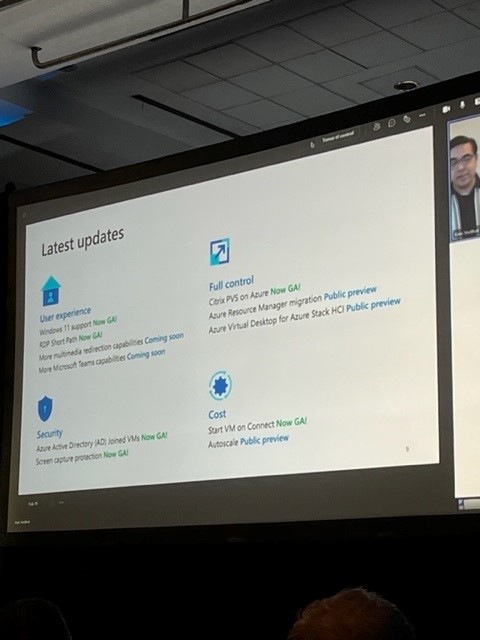 Kam also shared development items including:-
Autoscale capabilities
Optimisation for Teams - bringing the Teams experience to parity with Teams
Background Blur
Multi window functionality
Optimised calling on Mac OS
Remote App Streaming for ISVs facilitating the ability to deliver apps as a SaaS solution to customers via AVD
The keynote concluded on the need and value that Nerdio brings to the AVD and Azure platforms providing a single management plane and enhanced automation and orchestration capabilities.
The afternoon breakout sessions proved to be just as informative as day 1.
Kyle Hanslovan from Huntress and Vadim Vladimirskiy from Nerdio continued with the security theme to discuss the security mistakes that we ALL make. These were summarised as:-
AAD identity

Provided by Microsoft but configured and managed by the MSP
Too many global admins with the ability to login from anywhere
MFA - failing to enable exposes organisation to significant risk
Not monitoring sign-ins on an ongoing basis leads to missing intrusions

Remote Desktops

.rdp files with saved credentials - this is often a method that bad actors will use to gain access to an environment. (The guys discussed how the modern authentication capabilities had improved the way this works)
Dumping RDP credentials
Kyle put the fear of god into the audience by showing how in a live demo, he can ascertain user credentials using free tools like RDP thief and mimikatz and shared ways with which these risks can be mitigated. This guy is impressive and scary at the same time! A slide was shared regarding Microsoft Endpoint Manager which goes some way to helping organisations mitigating risk.
The next session focussed on the journey that Vadim had taken with his MSP and how Nerdio was came to be. This was really interesting as a managed service provider that is growing steadily. One of the most valuable parts of this conference has been being able to share stories and experiences with our peer group, including our managed service providers from all over the world; we definitely have some new ideas to bring back into the business. There is a degree of comfort that we all experience similar challenges (and dont have answers to all of these!).
Natasha wrapped the breakouts up with an overview to the Partnerd programme showing the training and community resources that are available to the partner community. There is clearly a lot of time and effort going into providing companies like us the tools we need to improve our skills and execution capabilities.
Toby managed to dive into some alternative breakout session tracks with the likes of Scott Manchester's technical deep dive into W365, we learned that for clients that have moved over to the annual commit/NCE licenses that W365 would be available as a free trial. Bas at Nerdio's session on auto-scaling capabilities, showed real examples of environment savings of up to 70% which is phenomenal.
Once the sessions had closed out and the rain stopped (I'm not even joking, it rained) the end of conference party was a blast and presented a final opportunity to provide feedback, meet new people and generally enjoy the Cancun surroundings.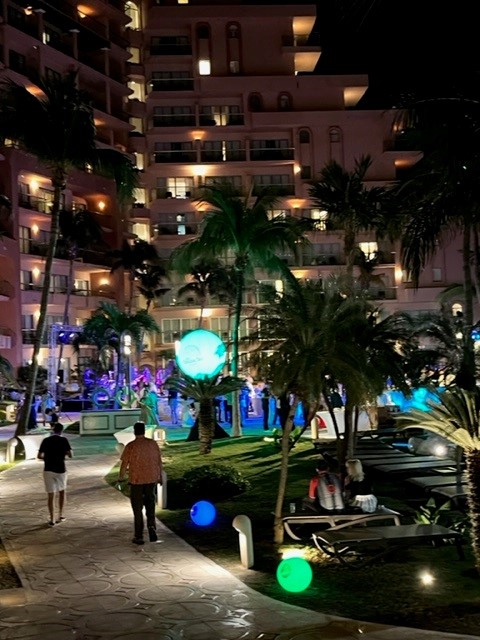 Well done again to everyone that presented over the two days and for those that organised everything, you should be really pleased with yourselves!
...... Until next time! #Nerdiocon2023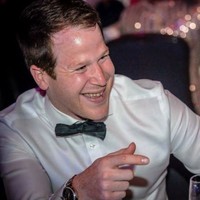 About the Author: Mike Starnes
Mike has worked in the IT Industry for over 20 years. If he's not talking technology, he'll be reading, playing football or trying to embarrass his daughters.