Hola from Mexico! - Wow what a place.
We are truly putting this hybrid working capability to the test here in Cancun. Toby and I are very grateful to be here, its a truly beautiful setting to work, learn and network (certainly better than the UK storms we seem to be having back at home).
Whilst my friends and family are adamant that this is just a work jolly. Nerdio is a fundamental component to the hybrid working/work from anywhere solutions that we deliver to customers using Azure Virtual Desktop. It enhances our support capability for the platform and helps us save our clients money. So yes, we are enjoying the sun and we have been in the sea! But this is about getting to know the people that we work with and the eco-system much better than we do.
This is a quick summary of Day 1 of the conference:-
Joseph Landes and Natasha Boyko from Nerdio kicked off the conference, there are around 200 delegates here outside of the Nerdio Team and eco-system vendors. Its clearly been a lot of work for them to get this on, especially with the concerns around Covid-19, but we all made it. They introduced Vadim, Nerdios' CEO to kick off the show with the first Key Note.
Vadim stressed that the market was changing and that this presented a great opportunity for managed service providers to do more to help clients navigate the complexity and ultimately improve the way they operate. Some highlights from his early slides:-
Azure has experienced 50% YOY growth for the past 4 years
Its now $15 billion in size (despite being a 12 year old business)
Microsoft is investing heavily in "work from anywhere" technologies
MSP's like FIT exist to remove complexity away from our clients environments (especially given the pace of change and range of technology choice available to them).
Vadim went on to talk about how Nerdio are committed to help MSP's to grow. Their wider mission and vision are very clear and yes, they are a technology company, but their commitment to the community and to support is something we've experienced first hand and really value (Vadim is known to respond to some of our support tickets - which is incredible).
Vadim then recognised 3 Nerdio Valued Professionals.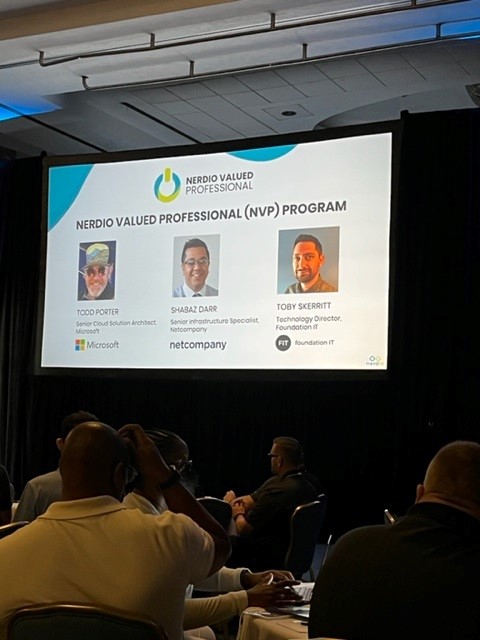 Todd Porter, Shabaz Darr and our very own Toby Skerritt had their name in lights on stage and were acknowledged for their contributions this past year. As an aside, its been great to spend time with Shabaz, he's a great guy and very knowledgeable in this space. As you'd expect, he and Toby are getting on like a house on fire (I occasionally feel like the 3rd wheel).
Vadim then discussed Nerdio's growth and product updates. Nerdio now works with thousands of MSP's across 40 countries. 5 Months ago, they have 1 million users under Nerdio Management. In 5 months this has increased to 2 million. That's phenomenal growth.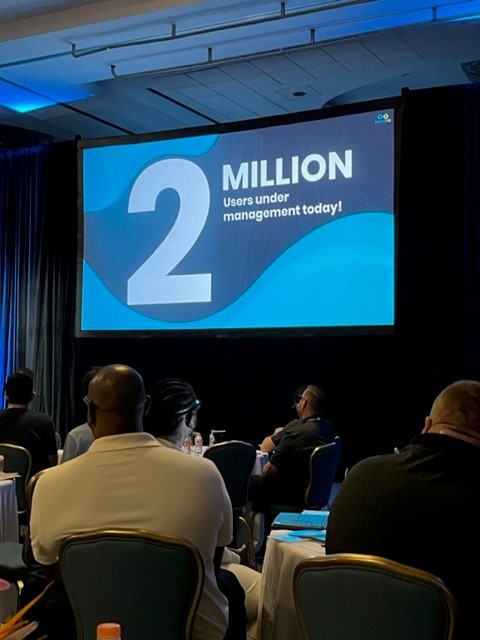 The adoption is impressive, but the cadence with which Nerdio has reacted to client feedback and improved the product is equally impressive. We have experienced this first hand when troubleshooting an issue - the very next day a new feature set is available but the MSP product has had 15 new releases and 180 new features, with the Enterprise product seeing 12 new releases and 171 new features. Vadim stressed that they have no intention of slowing this development down.
Nerdio released version 3.0 whilst Vadim was on stage (brave considering the number of Nerdio people involved in the event). But the improvements to the product are significant and extend the capability of the product beyond virtual desktops to physical devices too. Key updates include:-
Full integration with Microsoft Endpoint Manager - allowing all endpoints to be managed centrally.
Extended Application Management Capabilities - extending capability to manage apps on multi-session AVD desktops.
New and Improved Pricing and Optimisation capabilities
Outside of the product updates, there are several new partner community resources and events that were also announced including training, certification paths etc.
Full details of the updates can be found here.
As part of the key note and part of the event generally its been good to talk to other partners from across the globe about their opinions on the market and how they operate. It was great to hear from two partners Richard Harbour from Decision Digital and Paul Heaton from Cubesys both discussed their experience of Nerdio but also their experience of changing their business models which was very insightful.
A great way to kick off the show.
The other reason for attending the show was to learn from the wider community of technology vendors that operate in this space. One of the central themes is clearly about security and the fact that as an MSP we hold a significant responsibility to protect ourselves and our clients. We're all in the security business. Here's a quick run down of who we heard from post Vadim's kick off.
Ryan Walsh at Pax8 discussed the close collaboration between Microsoft, Nerdio and Pax8 and introduced the Forrester report on the Total Impact of Pax8 Technology and Operations for MSP's (found here).
Threatlocker introduced their concept of being the bouncer at the door. Taking the pressure off traditional AV vendors and being able to analyse and react to behaviour, leading to better control of the environment.
Webroot introduced their capabilities surrounding Endpoint protection and security awareness.
Jamie Moore from Blackpoint introduced their 24/7 detection and response capabilities. Which layer onto existing MSP practices to deliver comprehensive security and incident response capabilities.
Rob Rae at Datto did a great job (and I told him that over drinks) of presenting the responsibilities we have as an MSP community to protect our clients and use tools that enable us to do that. He also said that in experience, he's never known a time where MSP's are more relevant, particularly when you consider what has happened during the pandemic with hybrid working but also the ongoing demand to transform, shift to cloud etc.
The other take away from Rob's presentation is the increase in Cyber Crime since Covid-19 hit. According to his numbers, since the pandemic started, there has been:-
300% increase in Cybercrime
130% increase in ransomware attacks
These numbers are pretty stark and MSP's have become a target, so I was impressed with Datto's investment and commitment to security internally on this front.
The morning session was closed off by Scott Manchester from Microsoft who did a great job of explaining where things are heading with W365 and where it fits with AVD. As Vadim and Toby discussed in a previous podcast there is room for both and they can co-exist depending upon the use case.
Its evident that Microsoft are investing a lot into these technologies and he re-iterated that W365 and AVD share the same DNA, so improvements to one would carry across to the other. AVD provides more flexibility, W365 removes some of the complexity at a fixed cost but both can delivery a cloud PC / work from anywhere experience.
Scott was keen to emphasise that this isnt VDI or DaaS, but a Windows PC in the cloud.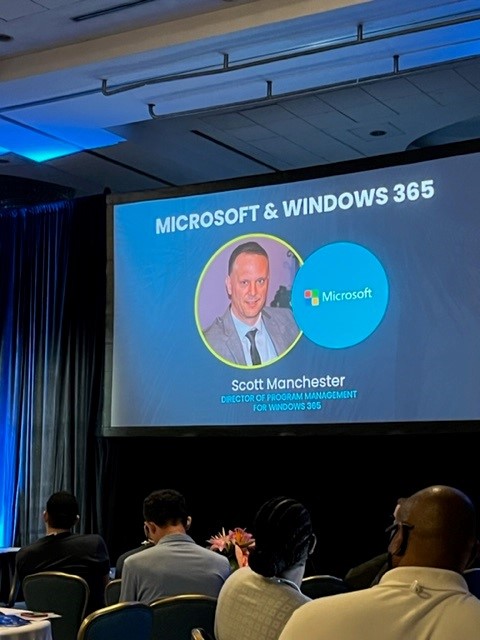 Toby and I were both impressed by the roadmap and improvements to the W365 platform and have a clearer idea of how this fits alongside our existing capabilities with Azure Virtual Desktop.
The afternoon sessions were filled with breakout sessions and we spent time with Kevin Murray and Carl Long to understand the wider capabilities of NMM and the value this could bring to us and our clients beyond Virtual Desktop management and extend to the wider Azure estate.
Next Tony Cai and Will Ominsky went through the process of accurately pricing an environment in the MSP context. This was very useful and they re-introduced the Nerdio Calculator which helps simplify the cost modelling process. They also re-iterated the importance of optimisation (via auto-scaling and selection of the right resources) and Reserved Instances, which is something I blogged about last July. If you're on Azure and dont have RI's - you're mad.... (see my blog post on Reserved Instances here)
Toby and I then split up with Toby watching Neil McLoughlin and Kevin Murray discussing FSLogix and profile manager and I went to listen to Des at Datto who was introducing the wider Datto portfolio.
Closing out the day we had more quick pitches from Huntress, Connectwise and the Compliancy Group. Then Jay McBain, from Forrester closed us out. I will struggle to Jay's presentation justice as he did a great job of discussing the market as a whole, one of the things that resonated with Toby and I was the research surrounding the way that CEO's think about the future and our role in that. 76% of CEO's think the current business model will be unrecognizable, with functions like IT, being run by expert group like us. If there was ever a message to match our vision and mission.... this was it.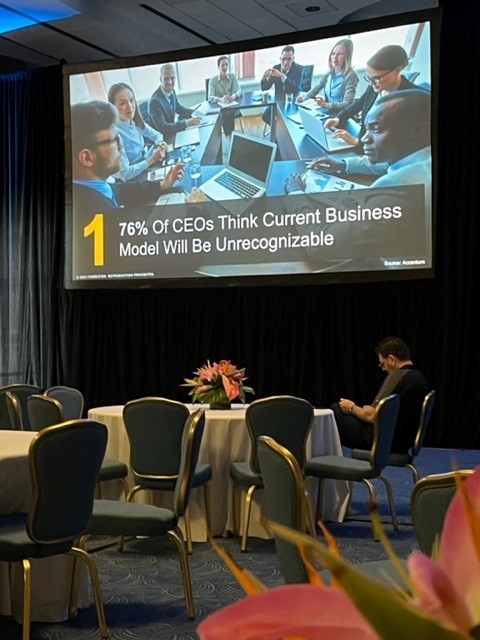 Toby and I liked the comparison that was given between how historically IT providers have approached their customers with a "healthcheck" something that is akin to the 20 point check the car garage gives. You know its not to keep you safe but an opportunity to sell you something because they've spotted something thats not quite right. Its happened to us all! - We have the opportunity now to talk to people about saving money or even better talking about how technology can enable growth and profitability, which is a much better dialogue to be having.
Jay also highlighted that Automation was one of the fastest growing sectors with IT with the demand extremely high, but cautioned that AI, Automation etc on their own, were not products and services without proper application.
An intense, but extremely enjoyable first (proper) day at the conference. Well done to all that presented and to those poor guys managing the Audio Visual equipment who certainly seemed to have their work cut out.
On to day 2!!!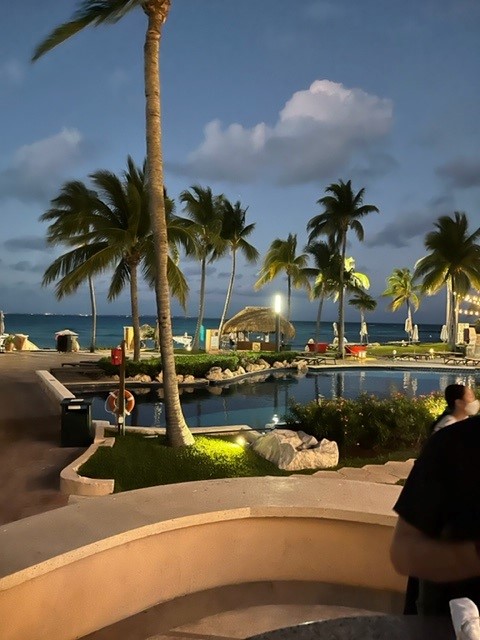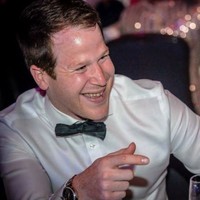 About the Author: Mike Starnes
Mike has worked in the IT Industry for over 20 years. If he's not talking technology, he'll be reading, playing football or trying to embarrass his daughters.