Microsoft Inspire kicked off this evening (for us UK folk) and Satya Nadella kicked off the event which is available globally online with his keynote.
Its been just over 6 months since Microsoft made the $10 billion investment in Open AI and around 4 years since their initial $1 billion investment in the company and the level of investment and hype around AI and expected impact is significant.
Satya made two bold initial statements:-
"AI will impact every room in the house" a concept explained further on in this blog, but in summary, it will effect every department, in every industry...
10% of additional GDP growth will be generated by next generation AI
My personal view is that we're just about to embark on one of the most exciting, yet disruptive periods in history, which will move at a pace that we've not seen before.
Key announcements from the opening key notes:-
Bing Chat Enterprise is announced with integration with M365 Co-Pilot
Leveraging Chat GPT, but adding commercial security, Bing Chat Enterprise, described as AI-powered chat for work adding enterprise security controls to ensure data privacy for the enterprise.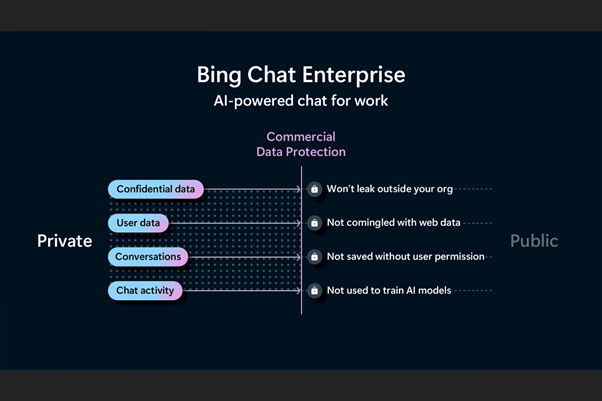 Furthermore the integration with M365 Co-Pilot is potentially a huge productivity gamechanger. Giving you thousands of skills and capabilities across the M365 suite and beyond.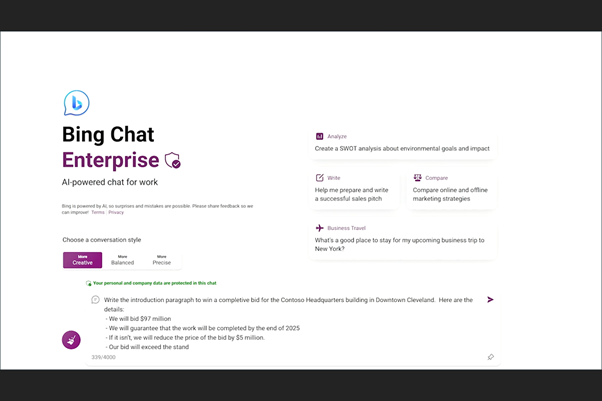 You can read more here:- https://blogs.microsoft.com/blog/2023/07/18/furthering-our-ai-ambitions-announcing-bing-chat-enterprise-and-microsoft-365-copilot-pricing/
Pricing has been announced too:-
- Chat GPT Enterprise will be free for Microsoft 365 Business Customers (Standard, Premium, E3 and E5)
- A stand alone license will be available in the future, priced at $5 per user, per month
- M365 Co-Pilot will be priced at $30 per user, per month
Introducing Sales Co-Pilot....
Building on the co-pilot theme, there is clearly a strategy to not only offer Co-Pilot as a very powerful toolset for a variety of use cases, but to also provide tailored solutions to fit a department or process. Sales Co-Pilot feels like its going to be the first of many and at face value its impressive.
As someone thats been involved in selling at various levels for the last 25 years, protecting your time so you're with the client versus supporting preparation and admin tasks is key and thats what Sales Co-Pilot is aiming to achieve.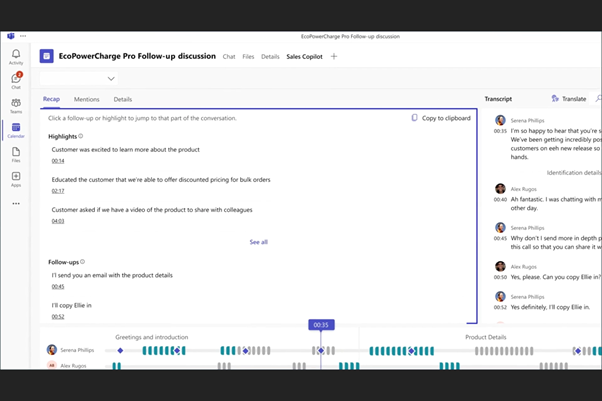 Sales Co-Pilot is designed to help:-
Capture key meeting notes and actions
Populate CRM notes and follow up materials
Support meeting preparedness (Research, concerns, customer news etc)
Offer response tips during Teams meetings when competitor brands get mentioned.
Sales Co-Pilot will come free as part of Dynamics 365 Sales users and be available as a standalone subscription in due course. More information is here:- https://cloudblogs.microsoft.com/dynamics365/it/2023/07/18/improve-sales-productivity-and-close-more-deals-with-microsoft-sales-copilot/
Microsoft launches Power Automate Process Mining
Everything a business does can be identified as a process, and most processes can be improved upon, optimised or simplified. Power Automate Process Mining is designed to provide process intelligence in order to gain a better understanding of what business processes exist and provide analysis and insights so that improvements can be made.
From Process Mining, combined with AI and Power Automate you can very quickly introduce low code automation and powerful reports and monitors that improve business processes.... quickly.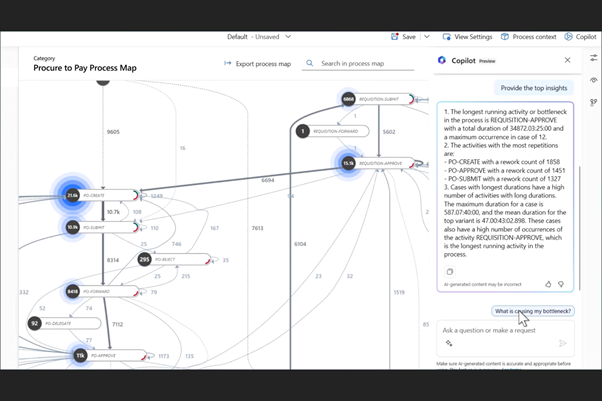 The big news is that Power Automate Premium will be available from August 1st. https://cloudblogs.microsoft.com/powerplatform/2023/07/18/microsoft-launches-power-automate-process-mining-and-next-generation-ai/
Microsoft will continue to expand its relationship with Open AI
Who loves Open AI.... Microsoft loves Open AI. The relationship will expand and grow; Open AI will remain a non for profit, Open Source company.
https://blogs.microsoft.com/blog/2023/01/23/microsoftandopenaiextendpartnership/
Meta's Llama 2 supported on Azure and Windows
Llama 2 is designed to enable developers and organisations to build generative AI-powered tools and experiences with an increasing joint collaboration and sense of partnership between the two huge corporations.
https://blogs.microsoft.com/blog/2023/07/18/microsoft-and-meta-expand-their-ai-partnership-with-llama-2-on-azure-and-windows/
Epic Show us how its done....
I was very impressed with what Epic Systems, a Healthcare provider had done with Microsoft and AI technology.
Their adoption of AI has benefited doctors and patients, recording data automatically and more accurately, summarising key information and enabling Clinicians to see up to 5 more patients a day and significantly reducing paperwork.
You can read more about what they have done https://news.nuance.com/2023-03-20-Nuance-and-Microsoft-Announce-the-First-Fully-AI-Automated-Clinical-Documentation-Application-for-Healthcare
What about the house?
Ah... yes. "AI will impact every room in the house"
This is a phrase that Satya made at the start and was expanded upon by Judson Althoff, Executive Vice President & Chief Commercial Officer at Microsoft.
I've often used house analogies (when a football one isnt available). To break this down, they're describing the various departments that operate in a business and the various levels of seniority within the house.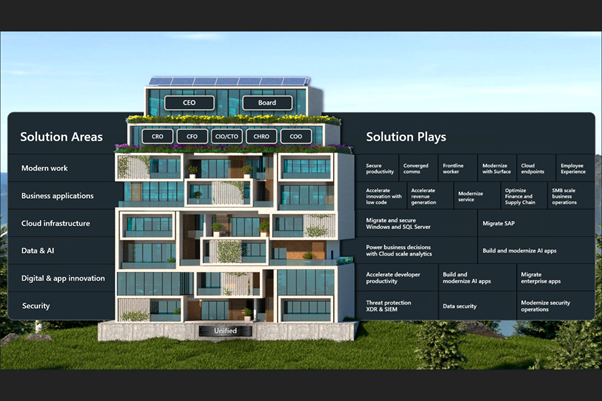 In every department, for every process, AI has the potential to make a huge difference.
Quick Keynote conclusions
There were a bunch of other notable announcements which I've not done justice too. The Data Analysis tooling "Fabric" looks pretty impressive and the launch of AI partner programmes, revamped incentives and invigoration of the Marketplace etc all bode will for us as a partner and our client base.
We talk a lot about the digital revolution, it is quite incredible how quickly AI has exploded into our personal and working lives. Make no mistake, it will impact jobs, it will impact businesses some for the better and some for the worse (although I sense the latter will be because they've failed to realise the opportunities it presents). Overall, I'm pretty excited about how this space is shaping up, even if we're only at this point scratching the surface of its potential.
When time is largely our most precious commodity. $30 per month for something like Co-Pilot is a snip if it can save me any amount of mine, my teams or my clients time.
Bring the innovation on!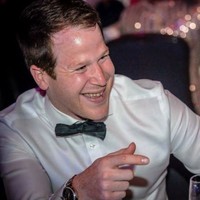 About the Author: Mike Starnes
Mike has worked in the IT Industry for over 20 years. If he's not talking technology, he'll be reading, playing football or trying to embarrass his daughters.