The ever reliable fade of Dan's let him down on this occasion as his ball flew long and straight, hit the clubhouse window and shattered it. The window was right next to the table we would be sat at for dinner.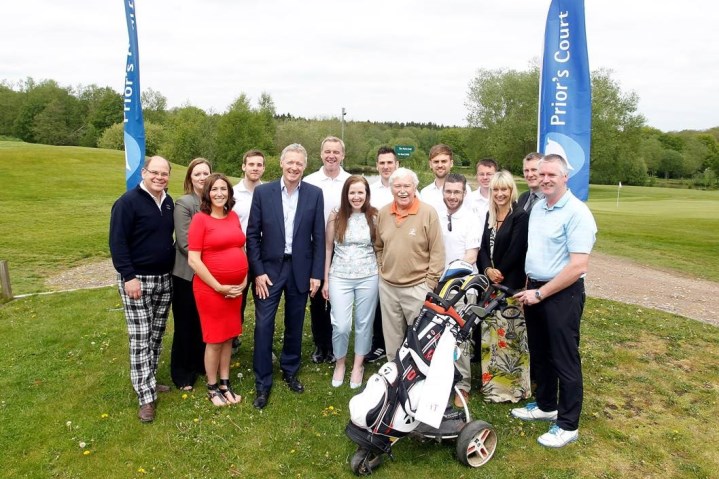 The dinner was great, I have always enjoyed the food at Sandford Springs. Then we heard from Ken a trustee of Prior's Court Foundation and he talked about how in awe he is with everyone involved with the school. Peter Goddard then spoke about his daughter who has been at Prior's Court for the last few years. He talked about how hard he fought to make sure that she got her place, I have heard this sort of account on a few occasions now. Priors Court is so good at what it does, it is unfortunately extremely difficult to find new places for the many families who would like their children to attend. Peter said he now sleeps at night, safe in the knowledge that she is being so well cared for. After her initial spell at the school she called Peter Daddy for the first time. Peter developed the theme that Rory Bremner used to describe what it's like to have ADHD. It was very humbling and moving to listen to Peter speak, he did a terrific job. Then came the auction which on the whole went well, Ian Harvey made us laugh a lot before that and I have to say it was a pleasure to spend time with a comic genius, I have always wanted to meet Rory Bremner. The total raised at the event is still to be advised. Thank you to everyone that made the effort to come along, the 72 golfers who took time out of their busy lives, thanks for staying well into the evening. I want to thank everyone at Priors Court for being so brilliant at what they do and for truly excelling. Finally thanks to Jo Tresize, as without her tenacity there wouldn't be a Prior's Court Golf Day.
About the Author: FIT
We've been in the IT industry for 20+ years, we love to share our knowledge and activities through our content for the community to read and enjoy.