I had the pleasure of attending Nerdiocon last year and I came back tired… but incredibly energised by the people, content and ideas I was able to take away with me.
This year has been no different, the conference is double the size and I once more need to take time to digest what I have learned over the last 3 days and how these ideas can be put into practice to benefit our client base.
Two of my favourite speakers last year Rob Rae who was at Datto at the time and Jay McBain who gave great context to what is going on in the market were back again this year. Day 2 was very security focussed, the agenda today on paper looked more industry centric. Here is a summary of takeaways from the third and final day of the conference.
Building a modern Cloud MSP - Jay McBain, Chief Analyst, Canalys
Jay McBain kicked off the day with the opening Keynote. He framed what the analysts are saying about the existing market as well as how MSP's like FIT need to evolve to serve clients in a way that matches their future demands.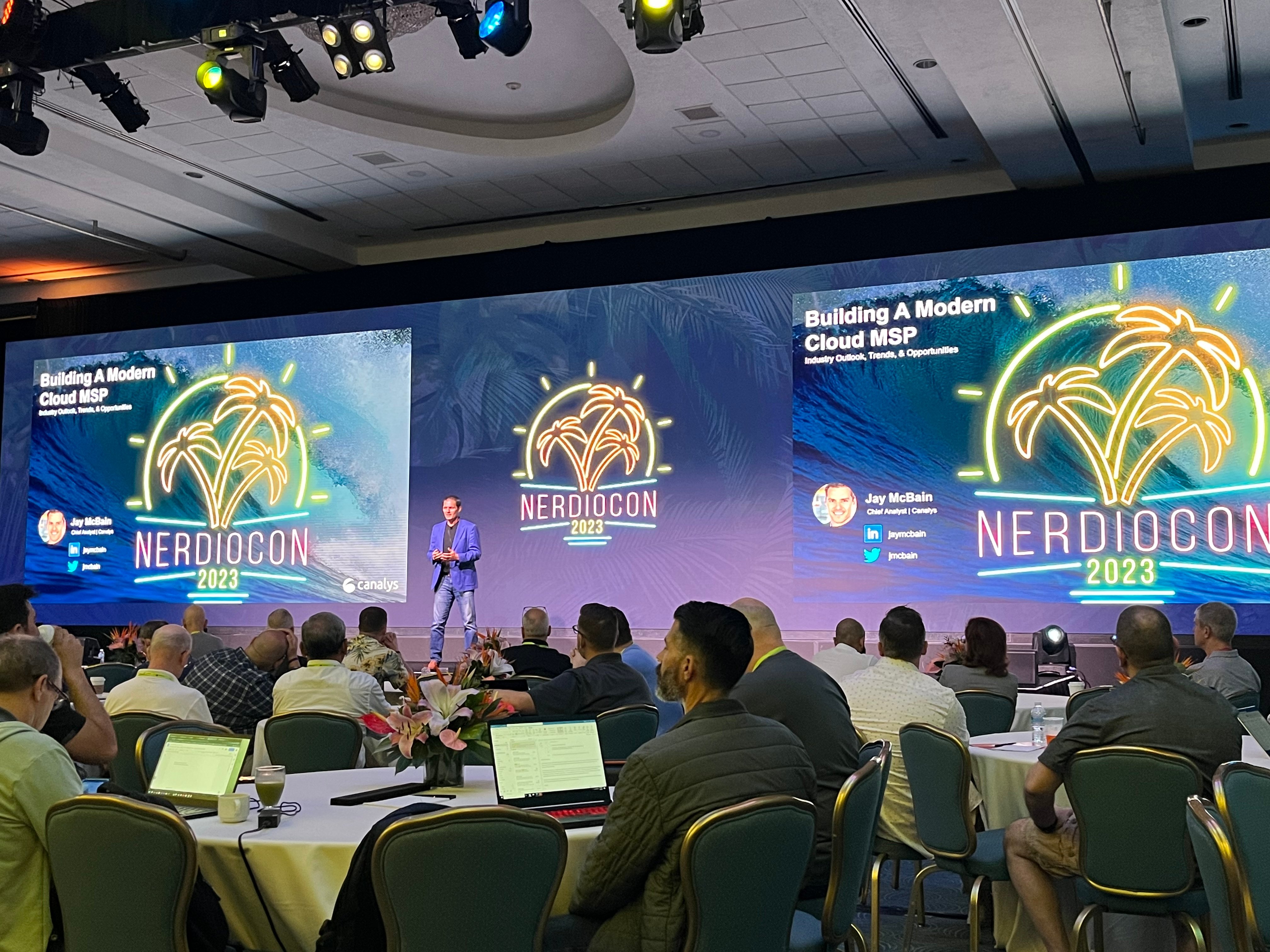 The session started by saying that in a world economy worth $94 Trillion and that the total addressable market for IT was $4.5T of which managed services represented $387billion of that market (and growing), but the market was changing and MSP's needed to adapt to trends in the market. Jay highlighted 9 elements of a modern MSP, these were:-
76% of CEO's think that their current business model will be unrecognisable in 5 years - the main point here is that everything is moving to subscription, Dell, IBM, Cisco, HPE have all announced their direction of travel towards subscription based models.
Average client uses 7 partners along their journey - there is a move away from 'the single throat to choke' and instead there is an emphasis on the importance of building relationships with eco-system partners (something which we of course believe in and have as one of our strategic goals).
B2B buying behaviour is changing (there are different mentalities, demongraphiocs, behaviours and journeys clients are going on before they buy). There are now 28 moments between a client identifying a problem to their point of purchase.
Partner Economics is changing for the modern MSP - Once upon a time, everything hinged on point of sale, now its about the lifespan of the client relationship
Marketplace staying power - by 2030 B2B marketplaces will be a $17T industry. These marketplaces present new ways for MSP's to go to market and for clients to consume new services.
Embedded/Integrated future replaces the SKU - Integration is now the top buying priority. As an example, 79% of buyers wont buy a car if it doesn't have Apple CarPlay (regardless of how good the car is)
Distributors are battling for the role of eco-system provider - All growth in the industry revolves around the cloud. Pax 8 are the fastest growing distributor due to their focus on this space. But these distributor / marketplace platforms present new routes to market for MSP's.
Multipliers instead of Margins - There is a new language being used in the industry, we're moving away from the point of sale conversation to the value of the longer term relationships and how we add value to this over time.
Eco-System partners are vital - there is no longer a single trusted advisor, word of mouth remains the strongest method of marketing and creating strong partnerships are imperative to this.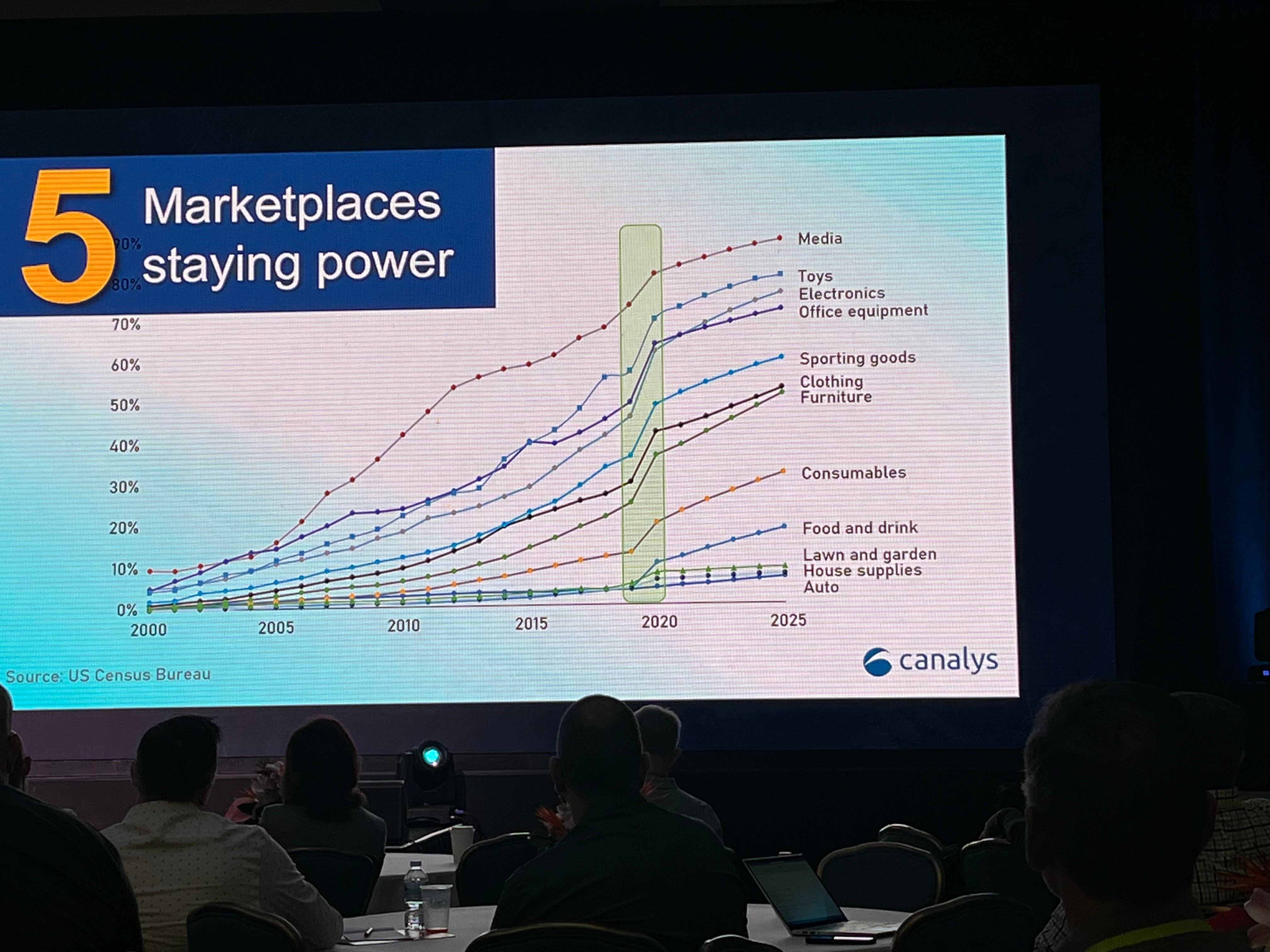 Generally speaking this was an energising opening session. As a small, agile Azure specialist, we advise clients to not opt for the single throat to choke and work with a company that is focussed and has an eco-system of partners (we're still developing the latter); but I'm glad there is some data to support our statements to clients and there is plenty of food for thought in how we approach things like marketplace offerings.
Datto's Global State of the MSP Report, Amelia Paro, Director of Channel Development, Kaseya.
I have often used these reports for industry insights; as the largest provider of services to MSP's they have good data to work from when they do these studies.
A copy of the latest report which Amelia based her keynote on can actually be found https://www.datto.com/img/dat-2022-Global-State-MSP-Report.pdf
4 key findings were highlighted:-
There is increased competition in the MSP market (as there was last year)
After Covid, the demand for break-fix support capability had increased
Nearly all MSPs now offer some form of managed security services, but cybersecurity is still a massive area of growth
The hybrid workforce (remote + office) is here to stay
The report also presents what keeps MSP's up at night:-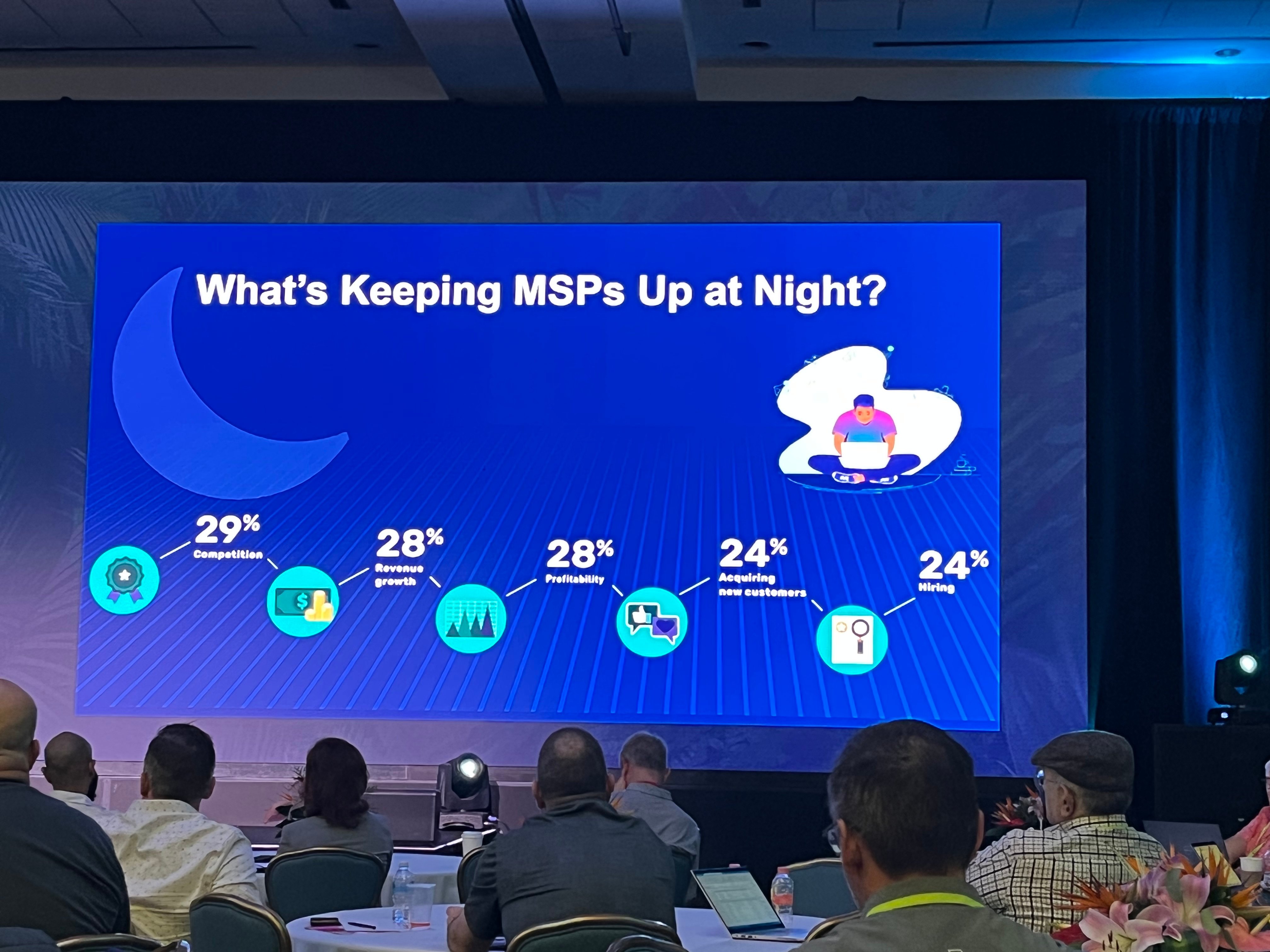 Security remained a theme in Amelia's session with viruses and phishing being MSP's principle concern as was remote working. A stat was shared that by 2028, 73% of all organisations will have adopted some form of flexible or remote working and by 2025 there will be 27.5 billion devices online (internet of things). Some eye opening numbers there.
On average an MSP uses 17 different tools to look after their clients; much like the advice we give to clients simplification, consolidation and integration is key going forward to MSP efficiency.
The keynote was concluded by a slide that I wouldn't be afraid to show a client describing why a client needs an MSP (we are bias of course so of course they do).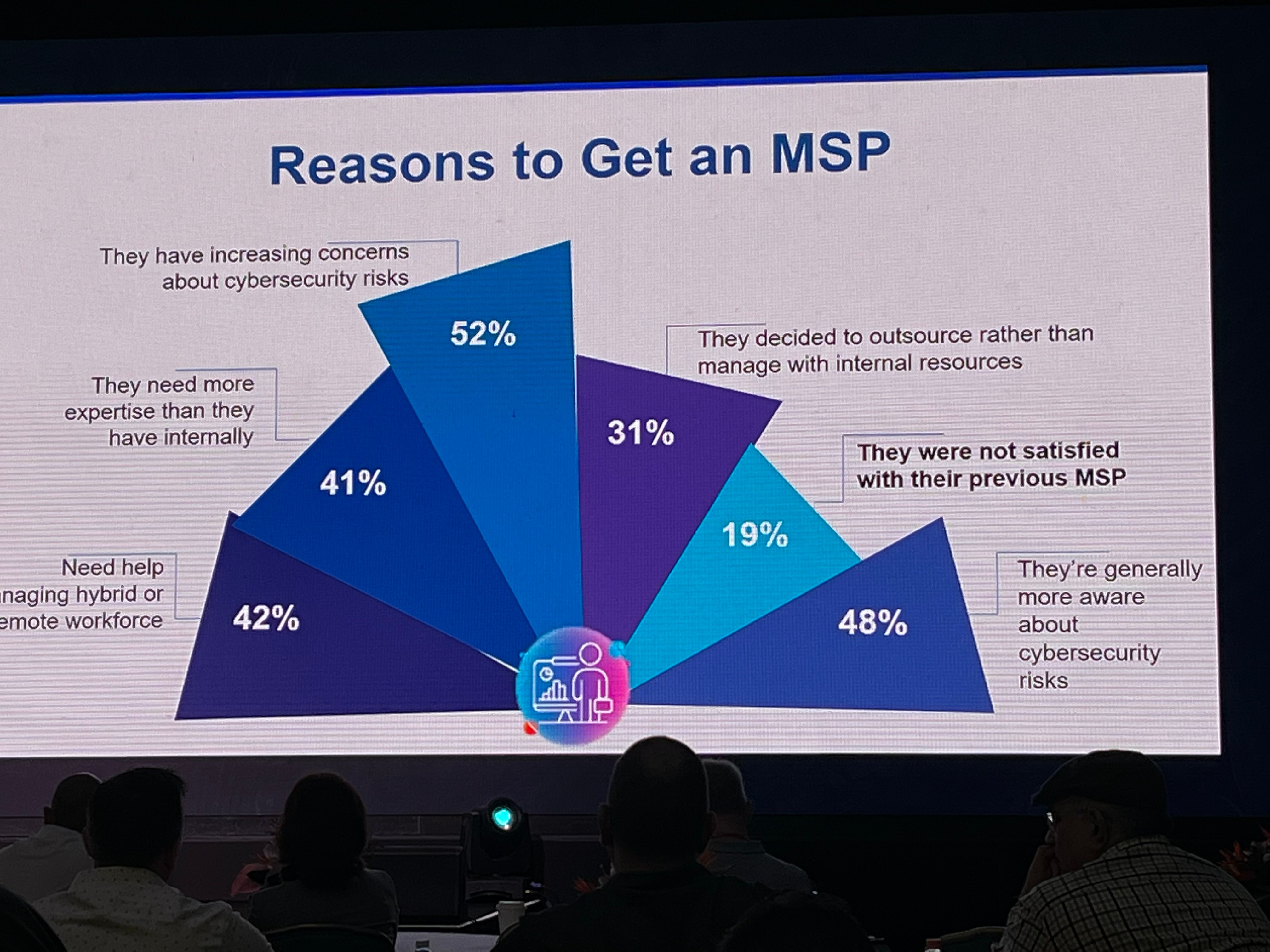 We are an interesting pivot point in the market in my opinion, our recent clients have had terrible experiences with their exiting MSP's. Our recent advice to clients is regardless of whether they work with us or not, work with a partner that focuses on care and demonstrates they have their house in order.
Why its a great time to be an MSP, Rob Rae, CVP of Communities and Ecosystems, Pax 8
Rob has an amazing stage presence; a speaker that you can really look up to and learn from in terms of how he structures and presents his points. The focus of this keynote, to some extent like the 2 before hand, was how can MSP's best serve their clients and take the lead with responding to trends in market and demand.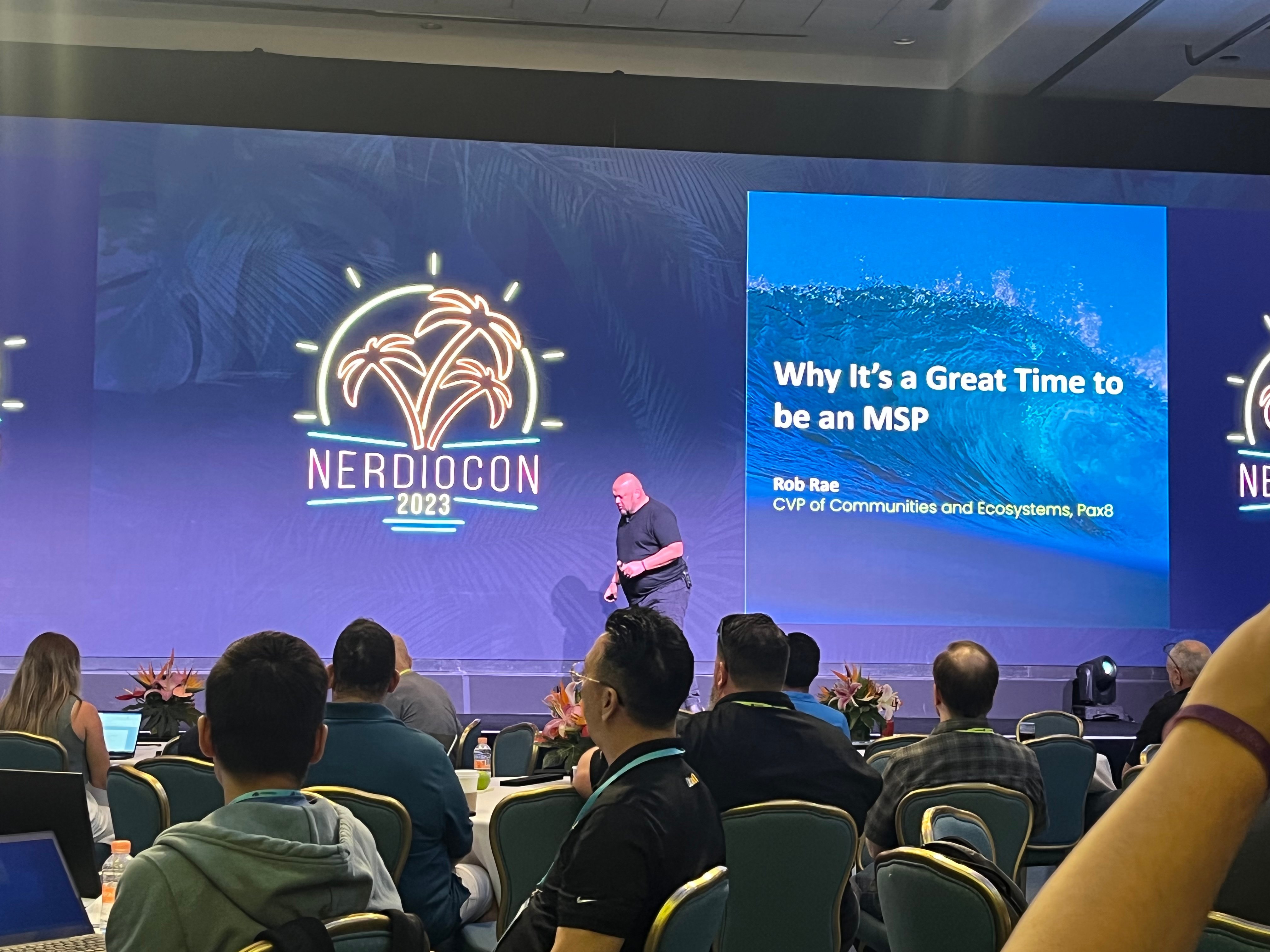 One of the interesting insights Rob presented was that whilst the working from anywhere trend was still part of the landscape, the narrative was changing slightly. Numbers taken from LinkedIn suggested that the number of job postings offering remote work dropped by 36% in the last 9 months and that a number of the major tech companies like Dropbox, Meta, Slack and Twitter had all changed there policies from work from home forever, to a more flexible arrangement (or in Twitter's case - 100% back into offices)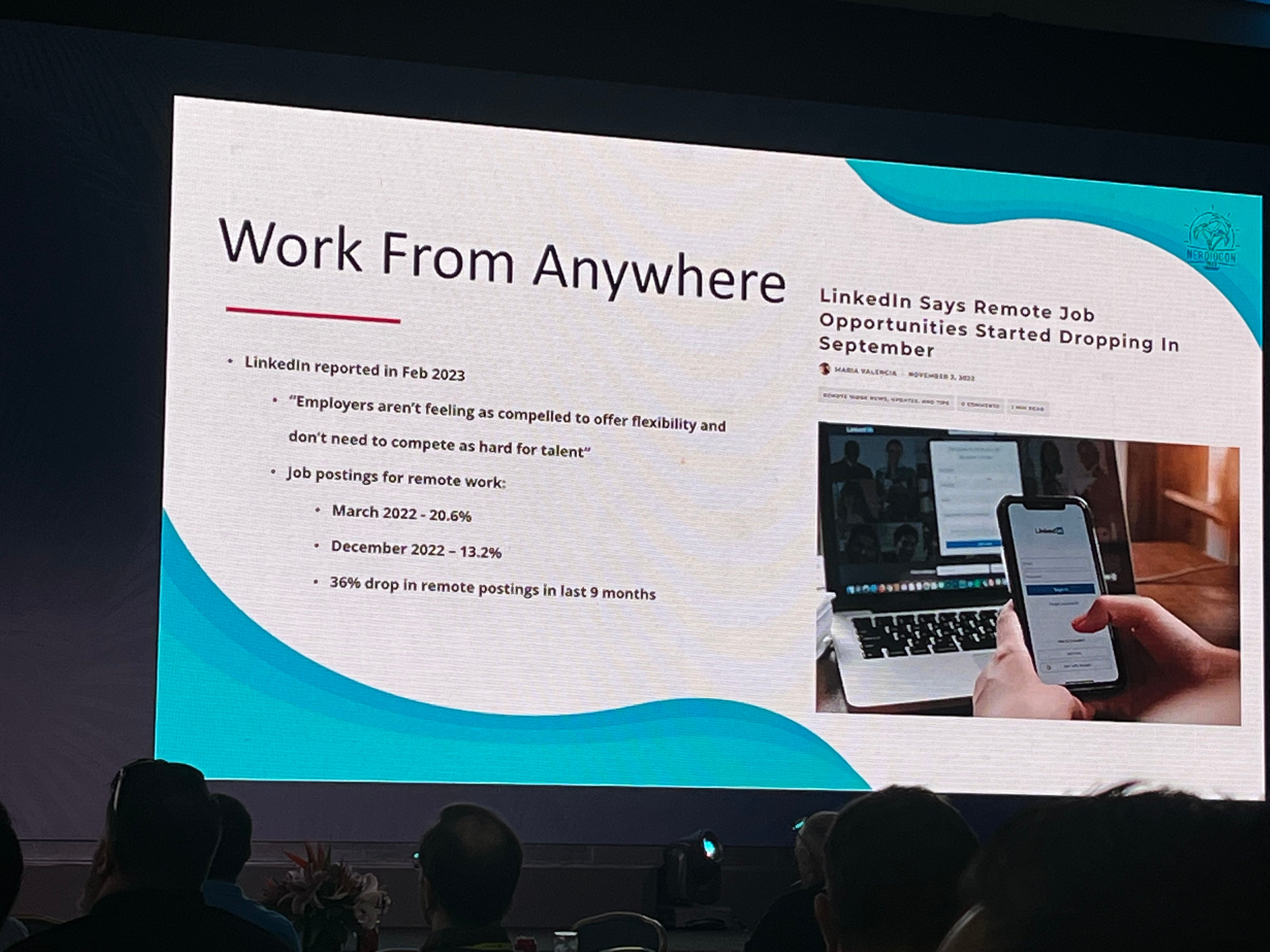 Our experience would suggest that most companies like the hybrid approach which is something we fully support.
Rob suggested that the reality is that it's an unpredictable landscape and that different companies would take different perspectives and MSP's should be ready to service any and all directions of decision making.
The other two main topics that Rob covered (in line with his faith in humanity graph, which I thought was a stroke of genius) was the emergence of co-managed IT, a space we have operated in since the start of our managed service journey and Cybersecurity.
The security topic dominated much of this conference and Rob asserted that clients really rely on the knowledge and education of MSP's to inform security direction. He played a video that showed general consumer ignorance to the risk of downloading applications with no understanding of the origin of the application, what the company does with the data etc. This is where his faith in humanity graph came into its own.
Essentially, this ignorance was compared to governments urging people not to put gas (or petrol for my fellow brits) in plastic bags. The point is that with human ignorance, it's our job to educate and protect our customers.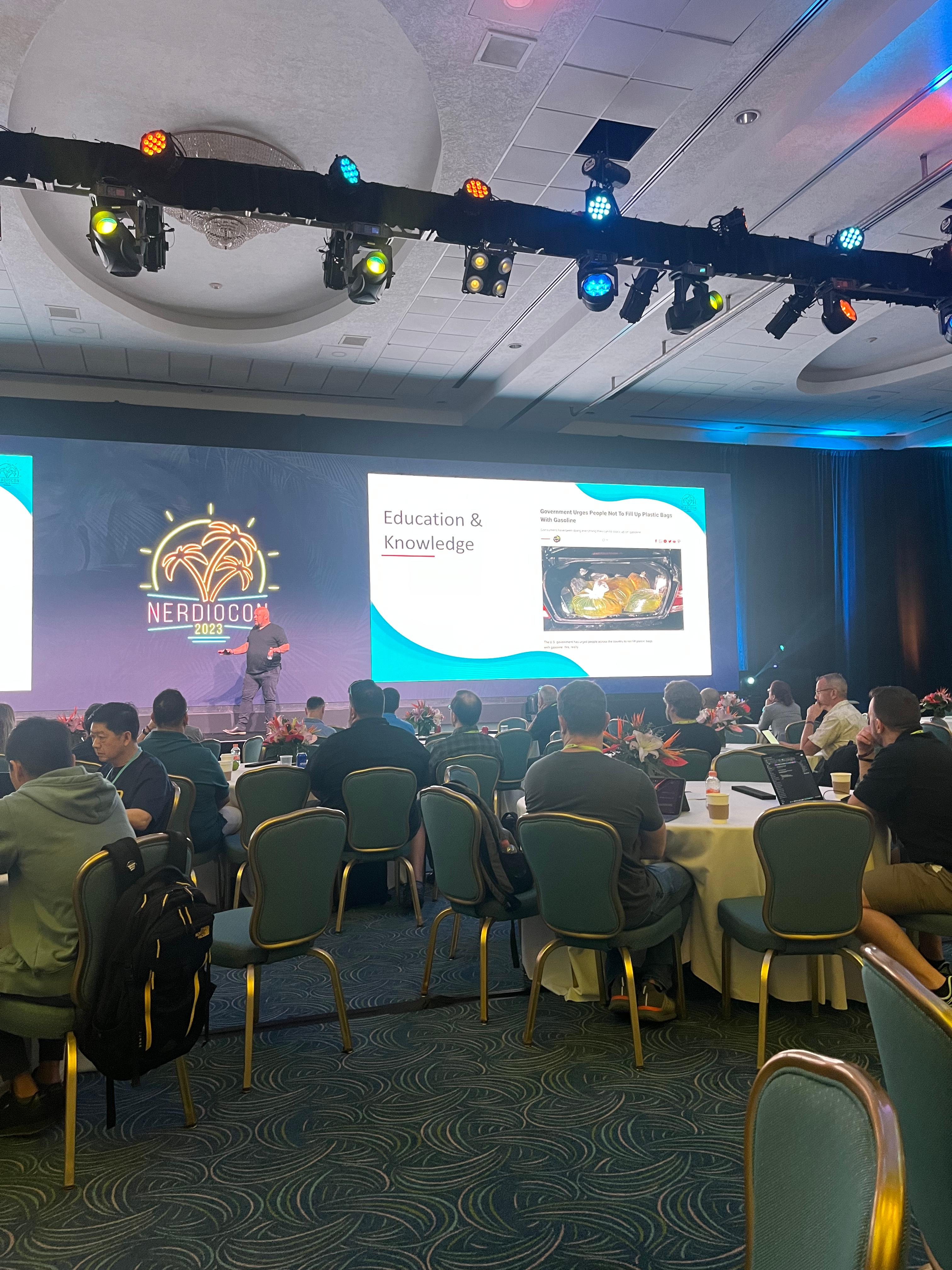 Another great keynote and way to finish off the morning.
After the morning keynotes, there was a further opportunity to meet with peers in the round table discussions, which was a new and good addition to this years event.
I was fortunate enough to contribute towards one of this years break out sessions this year. I presented a customer success story, specifically based upon delivering high end computing capability on AVD using GPU SKU's - it was great to own a little part of this great event and share this story with others its a case study we are really proud of and at the time was pretty ground breaking work.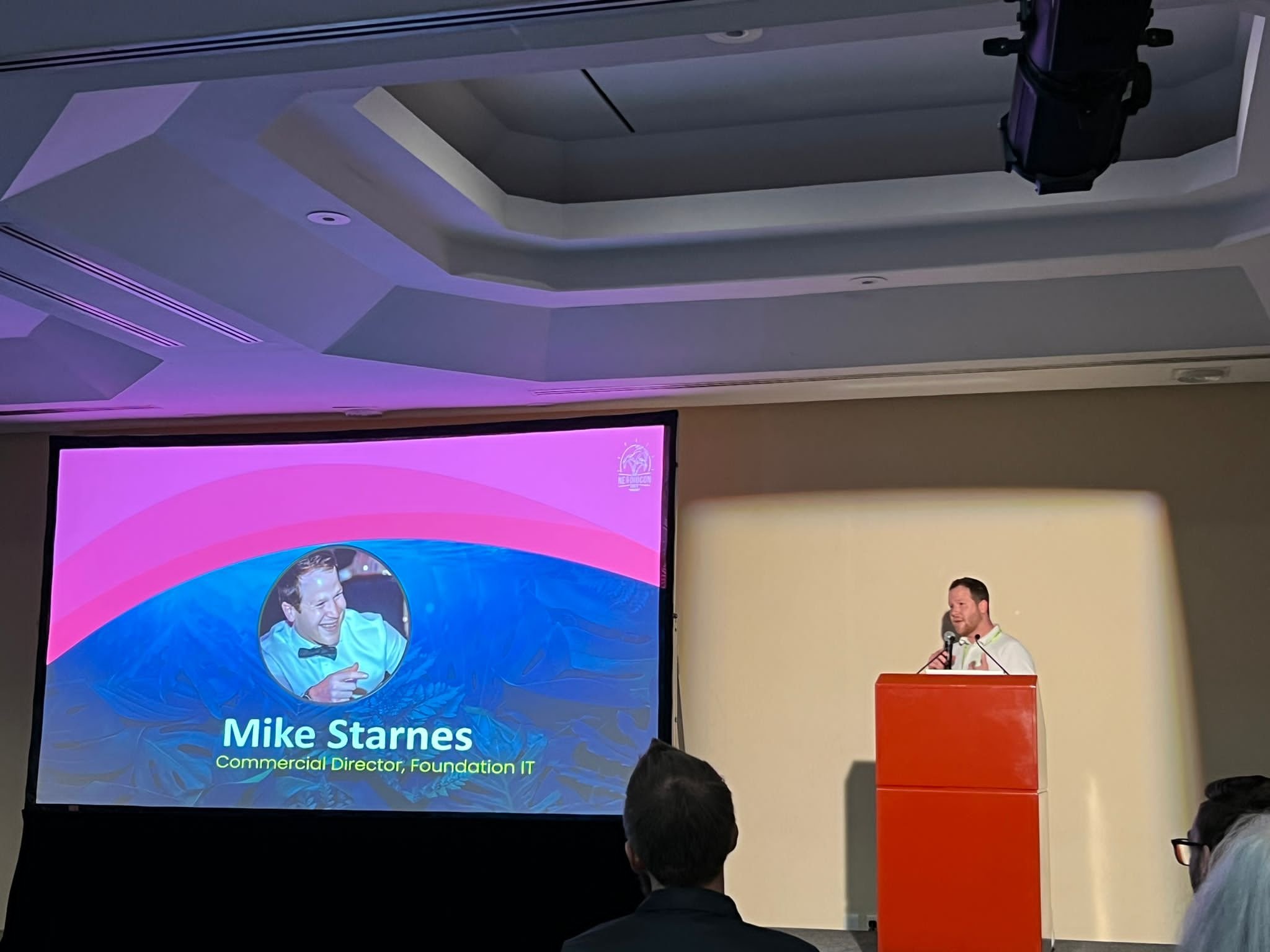 After the final break out sessions, Vadim, Joseph and Natasha closed the event out with their ask me anything section. We learned that Joseph has an awful lot of reading to do and Vadim can't be trusted to run and talk at the same time. Nerdiocon 2024 will have to go some way to surpassing this years event.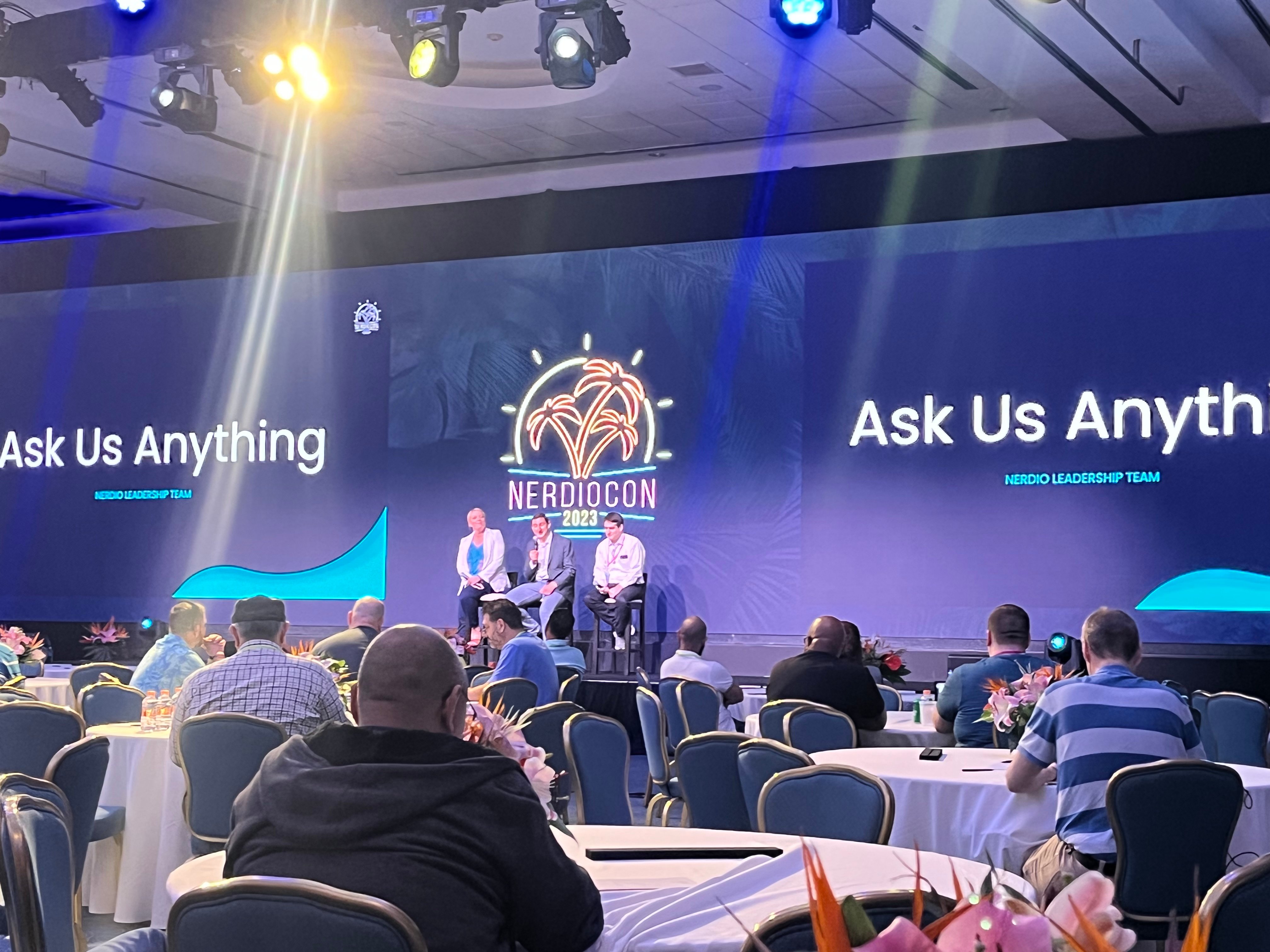 Hopefully this account of Nerdiocon has been beneficial - both as a reference point for those in attendance as well as those unable to make the event.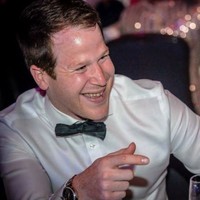 About the Author: Mike Starnes
Mike has worked in the IT Industry for over 20 years. If he's not talking technology, he'll be reading, playing football or trying to embarrass his daughters.