Well it certainly doesnt feel like it was a year ago since we were here in Mexico for Nerdiocon22; but time flies when you are having fun and we are back under the Cancun sunshine with this great AVD community. There are most certainly worse places to be working for a week and as with last year the conference presents a great platform for knowledge, creativity and networking. Heading to the event I was most looking forward to reconnecting with quality people and coming away with a solid update from Nerdio, Microsoft and the many other vendors and industry leaders as it forms such a significant part of our business and the value we are trying to bring to our clients.
Here is a brief summary of day 1 at the conference:-
Opening Key Note:- Vadim Vladimirsky - Nerdio CEO
Vadim had a packed opening keynote including a general company update, roadmap updates for both Nerdio Manager for MSP as well as Nerdio Manager for Enterprise with 3 mini interviews with partners and no fewer than 4 live demos thrown in for good measure. I'm not sure I've ever seen that in a keynote, so kudos to Vadim for being brave!
It is no secret that Nerdio is a rapidly growing and successful business, this was confirmed by the numbers:-
The number of partners aligned to Nerdio Manager for MSP grew by 150%
The number of Enterprise partners hit 200 people
The team has doubled in size
ARR growth of in excess of 100%
Influenced more than $100m of Azure Channel Revenue
Secured B Funding $117m from Updata


For me this just confirmed that we're aligned with the right partner when it comes to our own MSP journey and ongoing investment in AVD and remote working strategies.
One of the things that we really like about Nerdio is that they listen to partner feedback and very quickly look to introduce new ideas into the product set. The cadence of updates is really impressive and that's important to us and our clients of course.
In 2022 alone, Nerdio released:-
11 new major releases of Nerdio Manager for MSP
9 new major releases for Nerdio Manager for Enterprise
100+ new features on both platforms
Delivered 24 physical training events (training more than 800 engineers)
Now have client presence in 50 countries
The approach to product development put clients and partners at the forefront of the creative process which can only be a good thing going forward.
Vadim commented on how the market had changed and provided some statistics on pre and post Covid-19 work styles.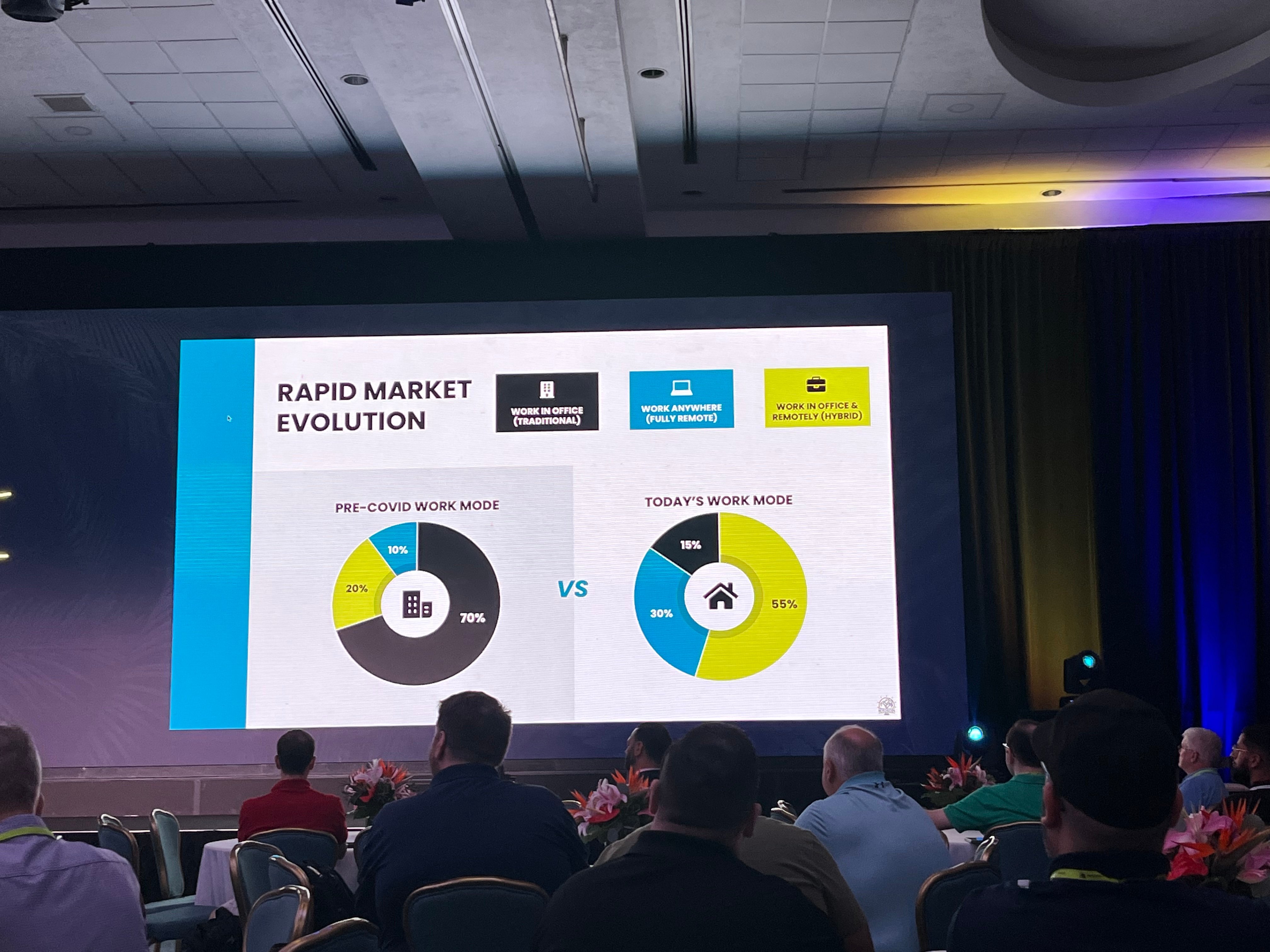 It's no secret that the shift to a more flexible way of working was accelerated by the pandemic. Whilst it will take time for things to settle down and policies will change. This flexible model of working is here to stay and what I took from Vadim's next slides is that with that, partners like us and their clients need to adapt to a new way of delivering value in the form of a modern IT service provision. The buildings blocks for which were called out as:-
Zero Trust Security
Unified Modern Identity
Data in the Cloud
Endpoints (Managed Physical, BYOD and Virtual)
Application (Legacy and Modern - Cloud Native Apps)
3 delivery models were then presented which in Nerdios view are the scenarios they see in 90% of use cases; Simple, Flexible and Highly Compliant. Defined by the type of Applications the client has, their endpoints and where the server infrastructure sits (if indeed it's required).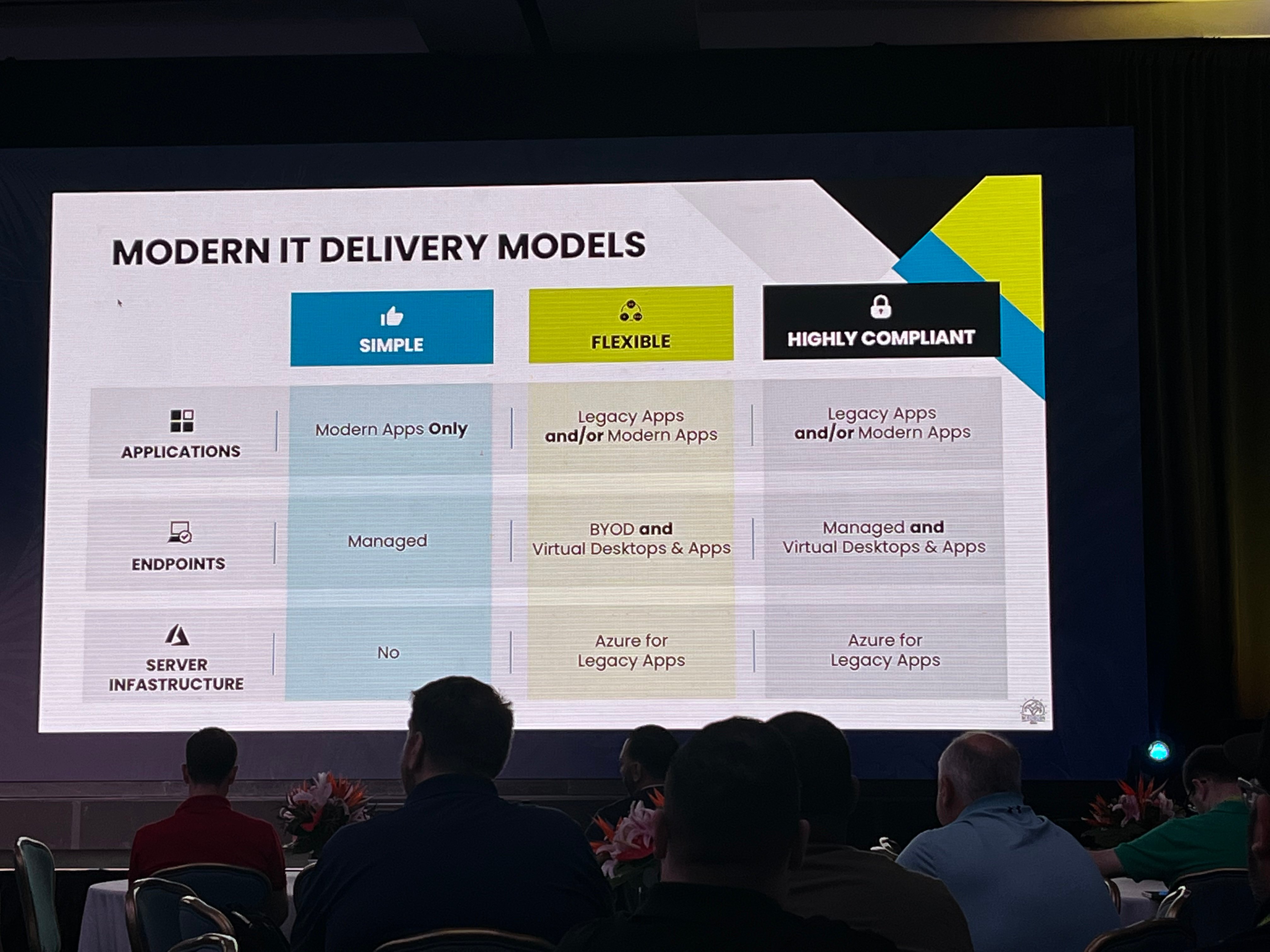 The roadmap content introduced a number of significant developments:-
For the MSP Product, Nerdio introduced the product as a Modern, multi-tenant, workflow-powered cloud management platform. The product now covers:-
Azure Infrastructure
Identity (Azure AD)
M365
Security (Defender)
Endpoints (Intune)
Essentially the breadth of the product is expanding beyond Azure Infrastructure and AVD to Intune and Security a major benefit for Partners that use the NMM product to manage clients environments and bringing the same level of automation, manageability and optimisation we see across the platform.
There were 3 significant product developments in this product:-
Unified Endpoint Management - Empowering MSP's to manage all devices and applications from a single user interface. This isnt limited to virtual desktops - this is any type of device.
Multi & Cross tenant Management - The ability to not just manage all clients from one interface, but now giving partners the ability to deploy things like Intune policies to all their clients.
Additional Monitoring & Troubleshooting Capabilities - Nerdio are introducing advanced monitoring capabilities which allow for smarter remediation of problems. Devices can be accessed via the Nerdio console with powerful views/actions/data at the partners finger-tips.
Nerdio Manager for NME which is primarily the product set we use also has an exciting roadmap and also includes integration of Intune Management into the product, which is exciting. Again there were 3 major updates from a roadmap perspective:-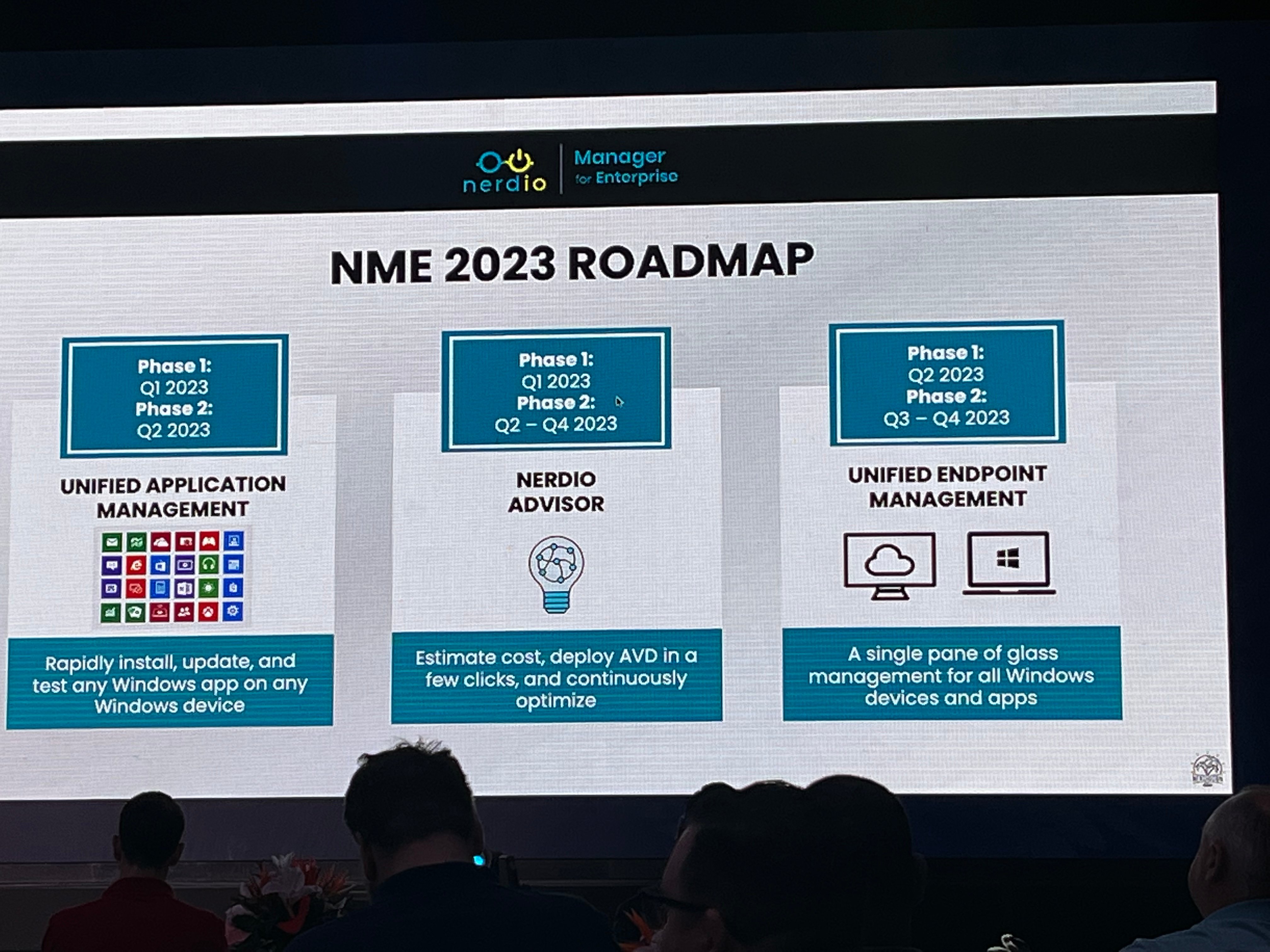 Unified Application Management - Allowing clients to be able to deploy applications from various repositories to any Windows Device
Nerdio Advisor - Providing the ability to model the run cost prior to deployment and automate more of the deployment process based upon the desired model.
Unified Endpoint Manager - Integration with Intune, providing a broader endpoint management experience via the Nerdio console.
All 3 of these developments are going to bring huge value to the way we look after our clients environments and the overall efficiency of run operations.
We were actually able to use Advisor on a client call last week and it added clarity to some of the costs and costs savings based upon a design we had done, something that previously was harder to demonstrate and have some confidence in.
A great way to start the event and exciting times ahead.
The Microsoft Cloud Opportunity - Sharon Schoenborn (CVP, North America, Small, Medium & Corporate)
A video was shown just after Sharons introduction to stage; it stated that there were 220000 Microsoft employees and 8 billion people on earth. The purpose of each of the 220000 Microsoft employees (and by default their technology) was to empower the 8 billion people.
The SMB market as we would describe it is significant and we all know makes up the majority of the worlds GDP. Sharon described the market as their fastest growing with a total addressable market opportunity of $420 billion. SMB's spend of IT will surpass $1.2 trillion.
The keynote re-iterated to me that as partners with expertise, we really are leaned on by our clients to make recommendations on technology direction and ensure that direction is operationally sound. At a time whereby the market seems to shift between outsource and insource, clients still value the trusted advisor. A few main takeaways from Sharons keynote:-
MSP's are the CIO's of Small to Mid sized organisations
The decision making demographic is changing, Millennials are more open to adopting technology earlier and are more savvy with their understanding of the benefits of technology
That IT budgets will increase (by 4.6%) - my only point of contention with this statement is that all costs are rising; so whether we actually see a greater spending capacity is to be seen.
That the 3 main priorities for the spend will be CyberSecurity, Business Applications and Collaboration.
There is a demand to do more with less. Microsoft have got a strong message here with the amount of value included with something like M365 licenses.
That in 2025, the cloud market will be double the size of the on-prem market.
That we are change agents who have the capacity to instigate positive and progressive changes for our client base.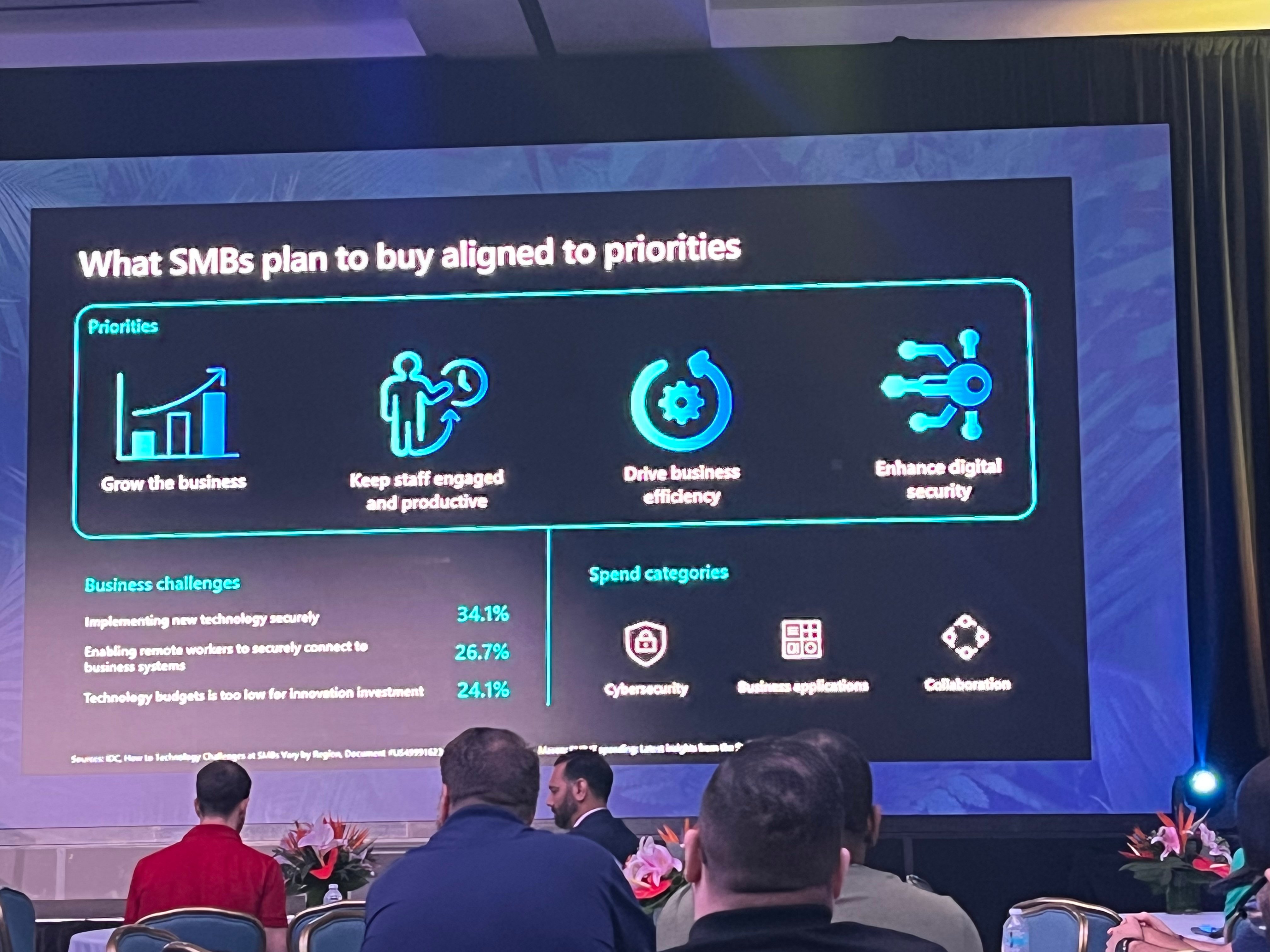 Sharon closed her session out by interviewing Paul Heaton of Cubesys, Michael Coppersmith of Integrated Technology Systems and Nikki Meyer of Pax 8 who each gave their perspective on the market, their journey and their advice for other MSPs. Paul made an interesting point to say that whilst they've historically worked with the Enterprise customers, getting that trusted advisor connection is more challenging and there is a greater capacity to lead SMB clients through a journey. A point we can certainly support.
Managing Talent & Building Culture - Joe Whittinghill, CVP of Talent Learning & Insights at Microsoft
I thoroughly enjoyed Joe's keynote. Mainly because at FIT our Values and Culture are how we try and differentiate ourselves from our competition and his insight and wisdom on this subject was very interesting. It also validates our stance on culture and we will continue to work towards are main goal which is making FIT a great place to work.
It was a genuine pleasure to listen to Joe speak on a subject he is clearly passionate about, but also knows his stuff really well. Some of the main takeaways I got from the session were:-
A study from the WEF stated that 73% of workers want flexible/remote working and 46% of staff are considering a major career change.
Culture is not about 'Pizza and Perks' it's about ensuring that staff understand the purpose of their day to day work and empowering them with the skills to execute.
Focusing on upskilling the workforce - requires skills
All companies are technology companies. The skills in this area is highly sought after and each of us are fighting within the same talent pool.
Skills are important, but attitude is key
As leaders we must ensure employees understand the purpose of their work and what the expectations look like. There should never be any surprises in a reward conversation.
Provide as much flexibility as you can
Joe did a great job of fielding a number of questions from the audience. A grew things stuck out here too.
Microsoft introduce culture changes regularly - they don't always get it right.
The rate of change has slowed, major changes are introduced every 6 months to ensure there is awareness of the change, proper adoption and advocacy. I like the simplicity of this concept - Awareness, Adoption and Advocacy.
When it comes to flexibility, the job still needs to be done. There needs to be a contract and understand of what the job is and what is expected of them.
That a team with diverse skills, opinions, backgrounds, approaches generates more creativity and better outcomes.
Don't cut deals with individual team members, set team agreements that everyone contributes to and abides by and review these regularly.
Everyone is a leader. (Another concept close to our hearts here at FIT).
One question was asked about home working. I think all businesses right now are coming to terms with the benefits and challenges of remote working and Microsoft are no different. It's clearly been embraced, but Joe conceded that certain things have been difficult to replicate in a remote working scenario. Joe summarised the scenarios where in person has been required:-
When teams are forming
When there is a major shift or discussion around a shift in strategy
When trying to solve complex problems
The early stages of a creative process
A lot to learn and digest from this particular session and some new ideas to take back to base. Joe mentioned Viva as part of his keynote in relation to this, subject, we have recently deployed FIT as part of our own internal approach to goal tracking and performance; something we hope to build upon in 2023.
The Value of a Purpose Built 24/7 SOC - Justin Weller - Director of Business Development at Blackpoint.
Justin wrapped up the morning's keynote and discussed the value of a 24/7 SOC. I have been a long time advocate of an outsource model that leverages the skills and economies of scale of a focussed organisation. Of course I'd say that as we're a focused provider of Managed Services for Azure and AVD. But we outsource many business functions that do not contribute towards the innovation or delivery of our service.
FIT doesn't currently partner with Blackpoint, but their concept is sound. A few things that stood out or me from Justin were:-
No business is too small to be a target. A bad actor doesn't care what size you are they're simply looking for holes and actually, smaller businesses represent an easier target.
The cost average cost of a data breach is $4.24M, although this is skewed by large enterprises.
The average cost of an SMB cyber attack is $54,650.
78% if SMBs plan to increase their investments in Cyber Security
It costs $60,000 per month to operate your own SOC
Ransomware is on the rise. These illegitimate businesses operate on the dark web (They even have customer service teams!)
Double Extortion is becoming a bigger problem, files are not just encrypted, they steal the data first.
Blackpoint clearly have a great product; and bring an affordable options to organisations that need this additional 24/7 proactive security service, but cant justify building their own SOC.
This concluded the morning Keynotes and the afternoon was primarily filled with deeper dive breakout sessions. I spent time with Vadim looking at the next level update for NME when it comes to the roadmap as well as the team at Cloudsys who have developed a really powerful cost clarity / chargeback capability for AVD called Cloud Clarity. It breaks costs down per user or per session to provide really insightful information on cost; they seem to have done a great job with the product.
Closing Key Note - Windows Cloud Experience - Scott Manchester - Director W365 and AVD.
This was one of the sessions that I was most looking forward to. AVD is now a big part of our service and our clients environments that hearing from the person directly responsible for the product is very valuable. I think it's great that the AVD and W365 teams now operate as one as part of this cloud experience team, a solid move from what I can see.
I was particularly interested to get further clarity on where the market is for W365, as to date we've always favoured AVD for the use cases we have been presented.
Separately, we're firm believers that we're in the midst of a digital revolution, so again some of our internal beliefs were partially validated by Scott's opening slide regarding innovation.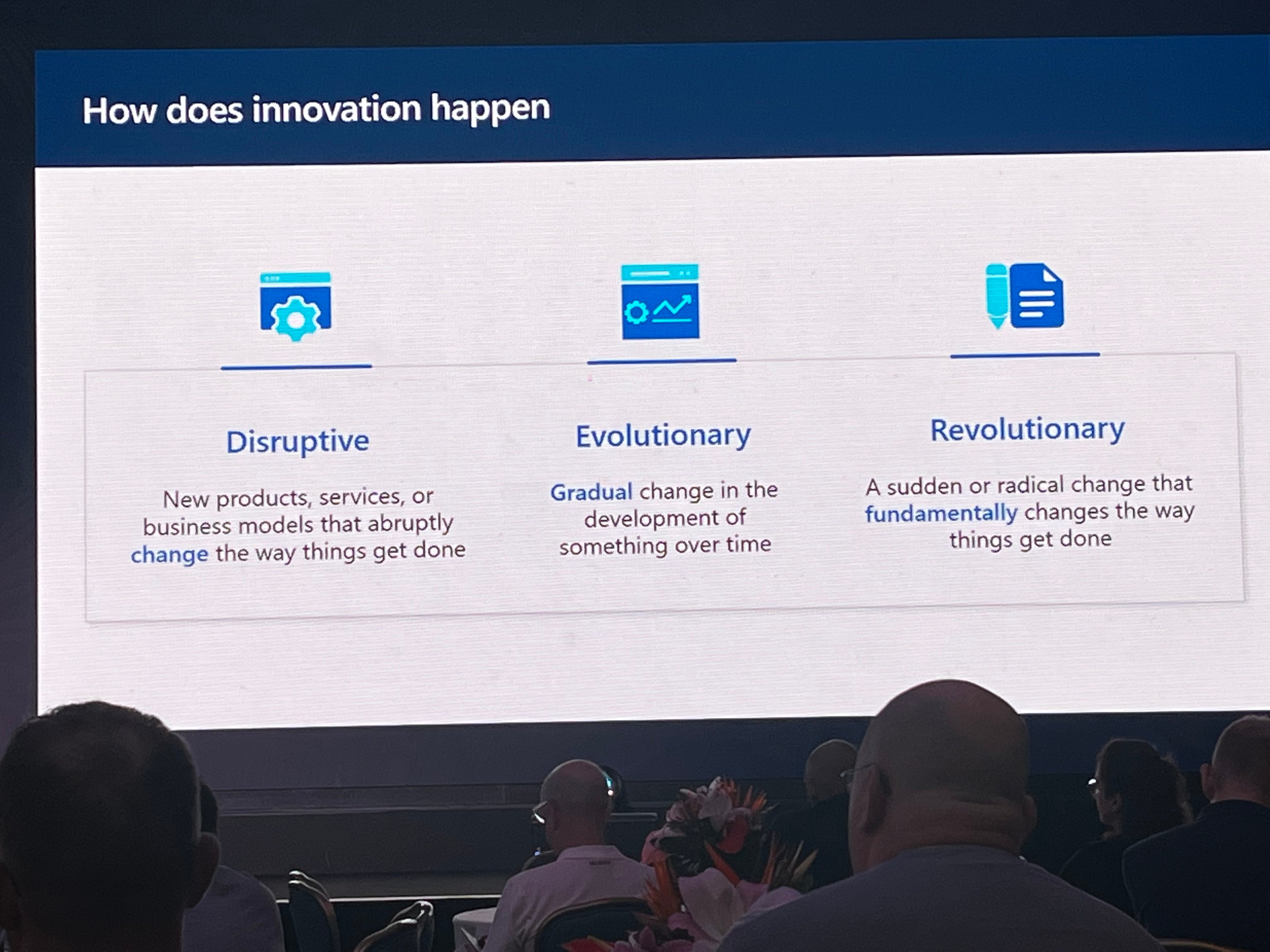 3 types of innovation were defined:-
Disruptive - such as what Tesla has done in the automobile industry with electric cars
Evolutionary - such as what's happened with mobile phones - a gradual shift in behaviours and adoption
Revolutionary - such as what AVD and Cloud PC have done for the EUC market.
I will spend time with the Microsoft team in the coming days diving into the AVD versus W365 use case debate. We've not yet seen an obvious demand from clients for it, but I understand the principles of the messaging.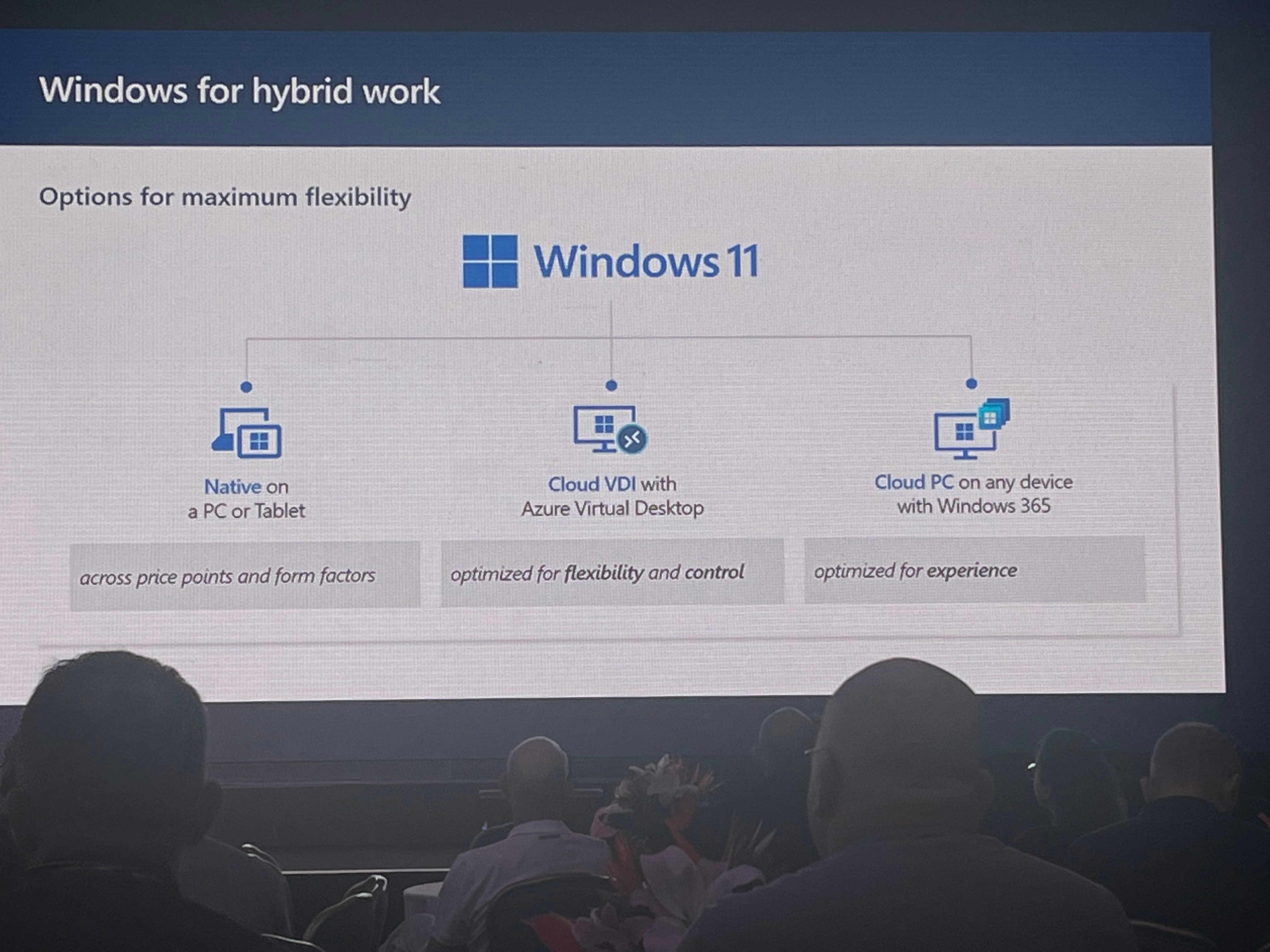 AVD gives you an almost unlimited variety of options and total flexibility when it comes to delivering a windows desktop to users. Cloud PC provides 13 deployment options. One is geared for flexibility and granular control, the other for simplicity and ease of use and management. There will of course be calls for both in enterprise and I still see W365 as a strong option for smaller orgs that just need a plug and play solution.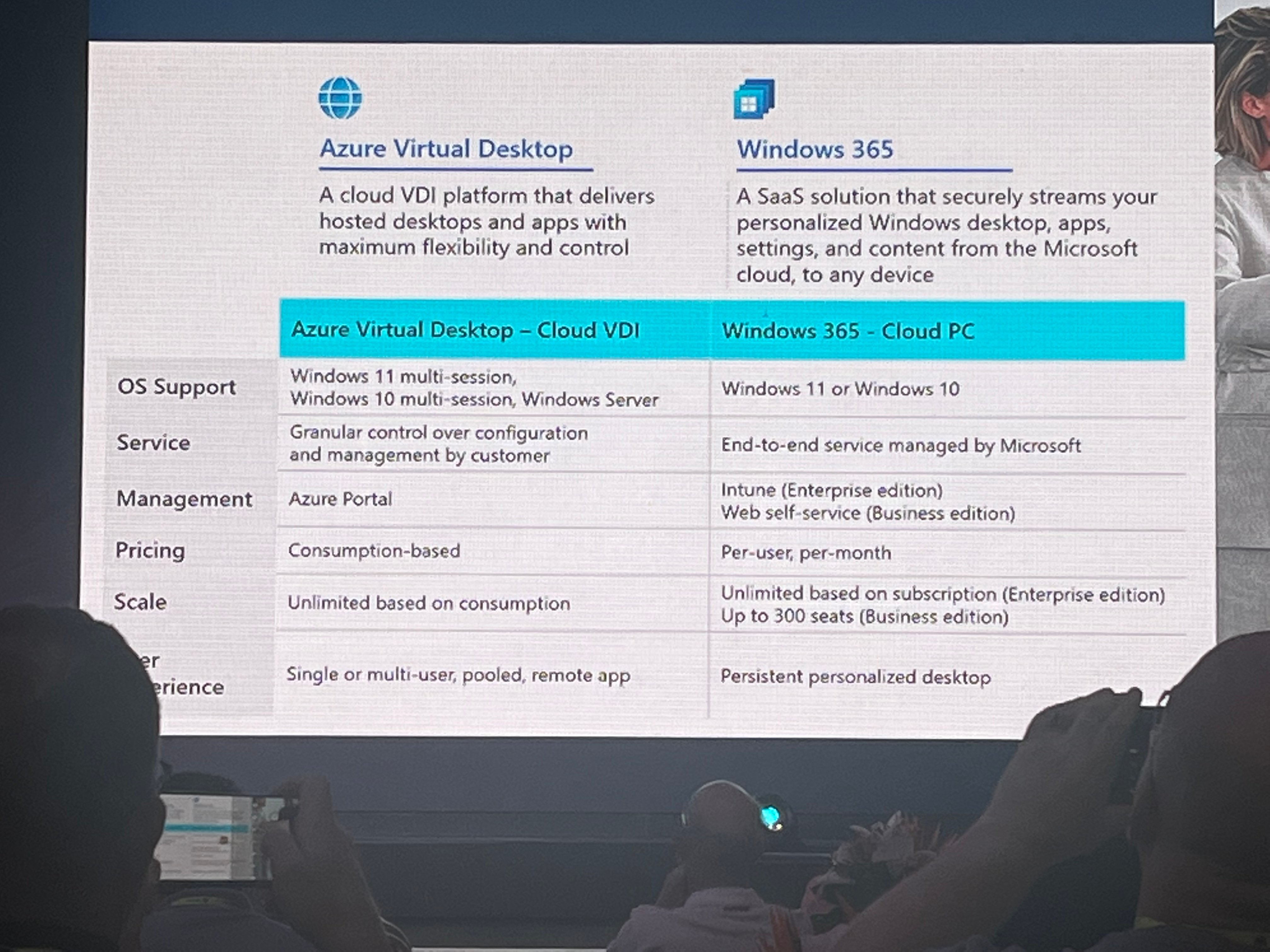 The table Scott presented went into more detail regarding the differentiation, but also said that innovation and development in one product will most likely be introduced into the other. I was amazed to hear that the average tenure of the team responsible for engineering these technologies is 18 years. Impressive.
There are many new features coming for both products which have been captured in the below images. I like the sound of W365 offline mode which will give you the ability to work on a cloud PC offline!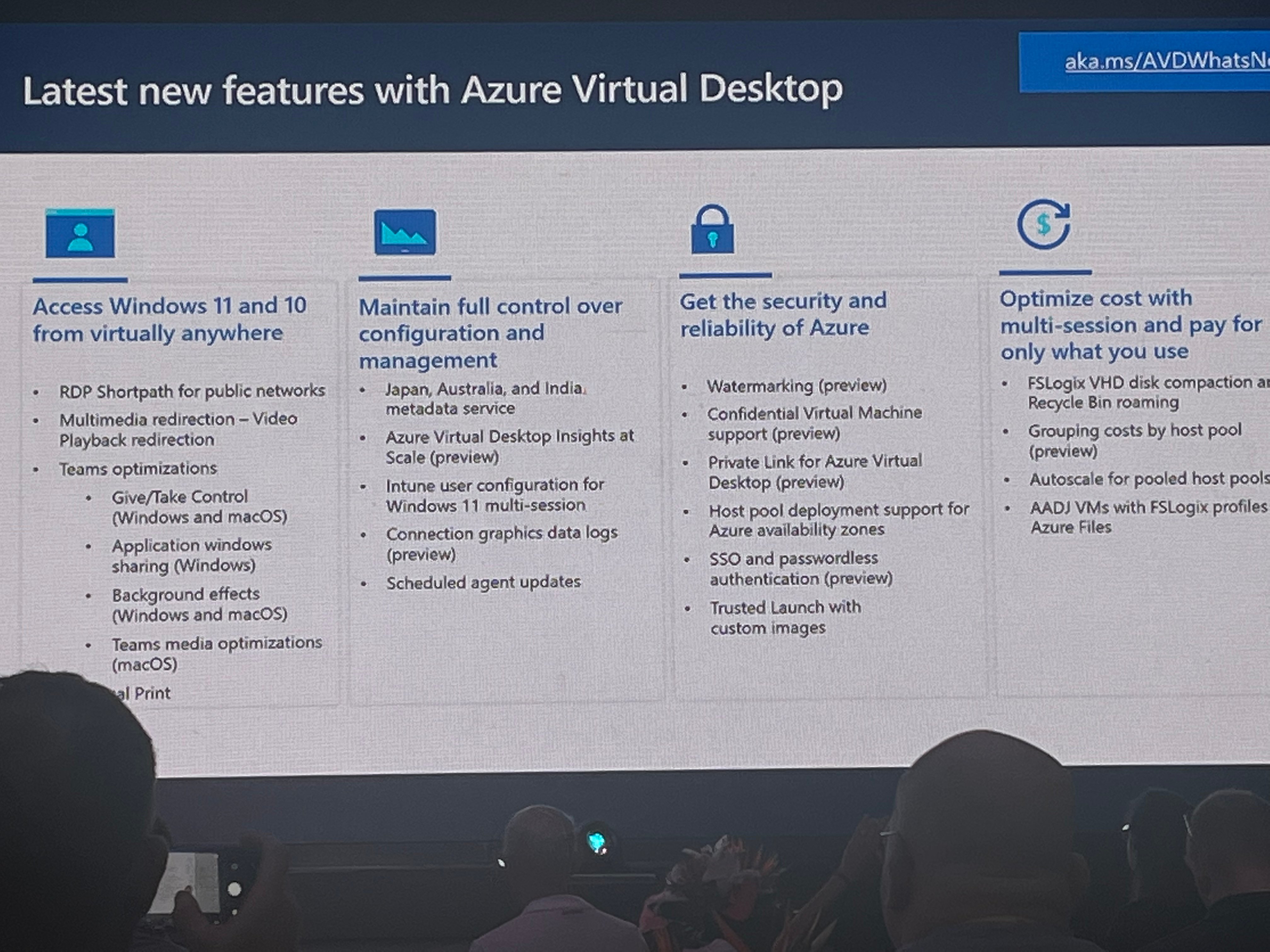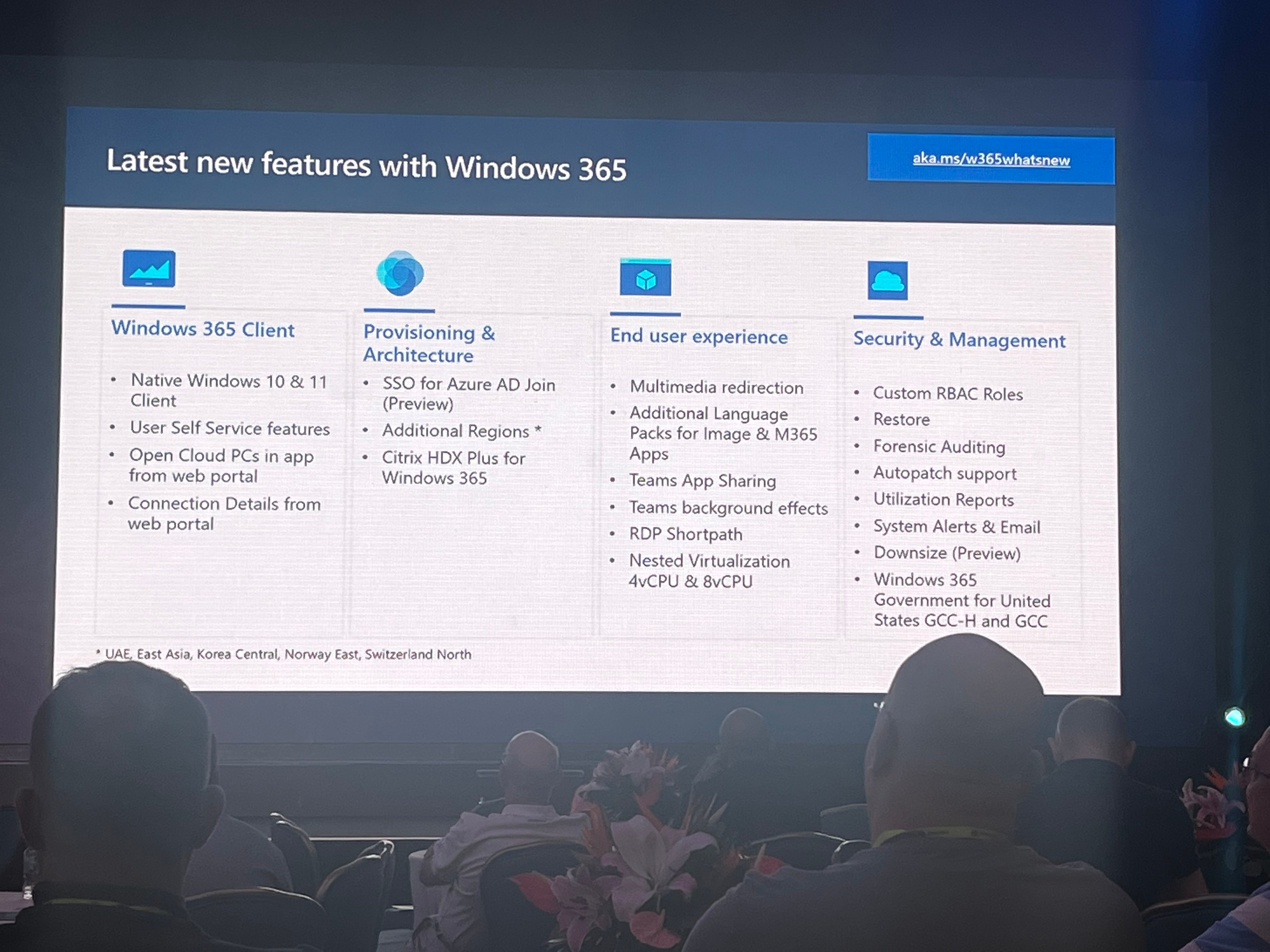 A full list of updates can be found at aka.ms/avdwhatsnew and aka.ms/w365whatsnew
A great way to close the day out and a long, but incredibly valuable day.
Thanks for checking the blog out - it was as you'd expect written on an IPad running on AVD! :)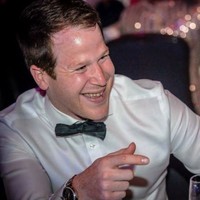 About the Author: Mike Starnes
Mike has worked in the IT Industry for over 20 years. If he's not talking technology, he'll be reading, playing football or trying to embarrass his daughters.