....Well, Available to Some People Today, Many Will Have to Wait.
I genuinely believe that M365 Co-Pilot is among the technologies poised to completely transform our working landscape. Today marks its official launch, and there's every reason to feel excited rather than daunted by this innovation. From a personal standpoint, if it can alleviate some of the mundane, lower-value tasks, thereby boosting our productivity, that's undeniably a positive development.
Here's everything we've gathered about M365 Co-Pilot following Microsoft's briefing yesterday.
This blog is a follow on from a previous blog post which introduced the concept of Co-Pilot, which remains relevant today.
What is M365 Co-Pilot - a quick recap...
M365 Co-Pilot is an intelligent assistant, aiding users with daily tasks such as creating documents, scheduling meetings, sending emails, and more. It employs artificial intelligence and natural language processing to comprehend your requirements and offer optimal solutions.
How will Co-Pilot work?
It's simple. Simply say "Hey Co-Pilot" or click the Co-Pilot icon on your taskbar. You can then proceed to ask it anything, from generating a presentation for the quarterly report to finding the best time to meet with John. Co-Pilot leverages the powerful suite of M365 apps and services, including Word, PowerPoint, Outlook, Teams, and SharePoint, to fulfill your request. Users are encouraged to provide feedback to enhance Co-Pilot's performance and precision.
M365 Co-Pilot Pre-Requisites
While Co-Pilot is now available, it's not accessible to everyone right away. The majority will likely need to wait until early 2024 to acquire a license. The current prerequisites are as follows:
You must be a Microsoft EA, EAS, or MCA-E customer (it is not yet available on CSP).
A minimum commitment of 300 seats is required.
You must be licensed for M365 E3 or M365 E5 (the number of Co-Pilot Licenses cannot exceed the number of E3 or E5 licenses you have).
It is not yet available to Education or Government customers.
Must have Azure Active Directory.
Must be using the new version of Outlook (Classic will be supported later down the line).
We've been informed that upon its launch on CSP, the minimum seat requirement and the need for E3 or E5 SKU's will be eliminated. It will also become available to M365 Business Standard and M365 Business Premium users.
Additional information regarding pre-requisites can be found here https://learn.microsoft.com/en-us/microsoft-365-copilot/microsoft-365-copilot-requirements
M365 Co-Pilot Readiness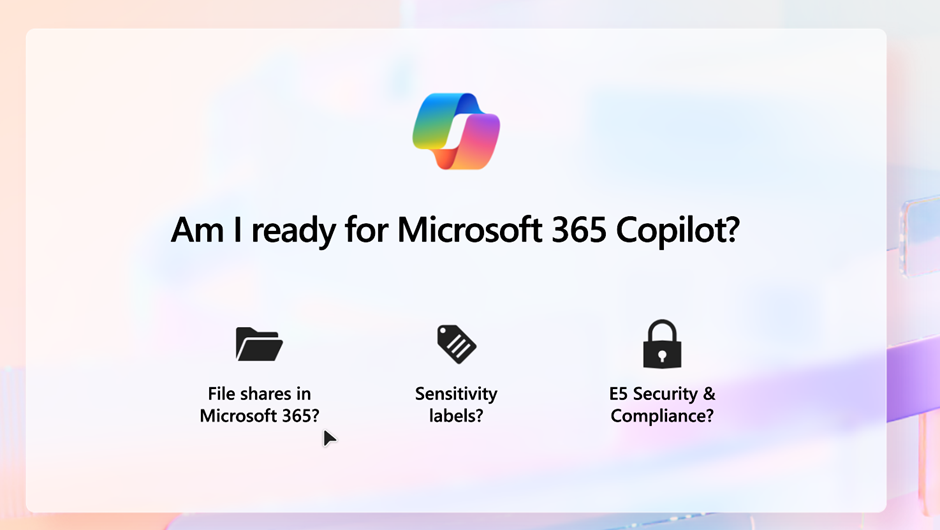 The main things Microsoft highlighted following the early access programme (EAP) were:-
The effectiveness of Co-Pilot is contingent on data accessibility. Ensuring data is properly stored and controlled is crucial.

Access Permissions & Security is a huge subject and absolutely dominates the objections, concerns and documention on co-pilot (lots of information on the subject here. The good news is that you can wrap granular security controls around co-pilot to protect data integrity.... the bad news (with a payoff) is that some housekeeping is going to be required to ensure

Beyond technical prerequisites and readiness tasks, there is a significant need for workforce education to prepare for what Microsoft terms the "productivity revolution."
M365 Co-Pilot Ready Versus Optimised
A new concept introduced is "ready versus optimized." Being "ready" means addressing both essential and fundamental components, while being "optimized" involves tackling intermediate and advanced elements to maximize Co-Pilot's benefits.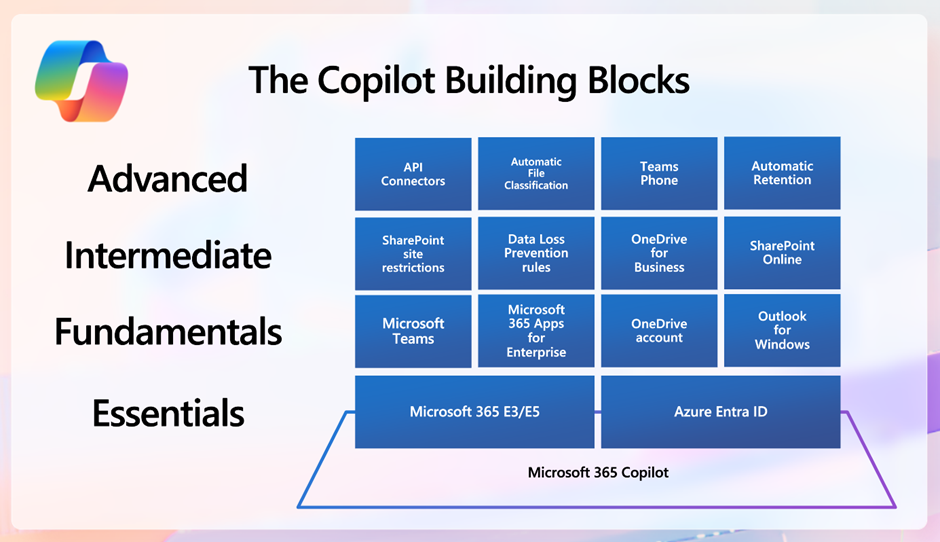 Real-world examples will emerge over time, but this framework serves as an early guide for adopting and maturing Co-Pilot's usage.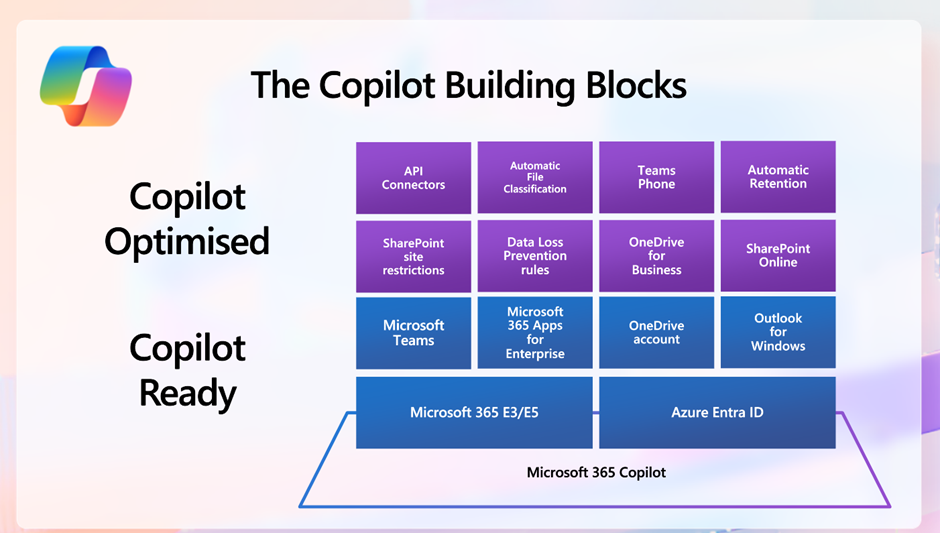 Insights from M365 Co-Pilot Early Access Programme (EAP)
Co-Pilot is touted as one of Microsoft's most diverse products to date impacting "every room in the house"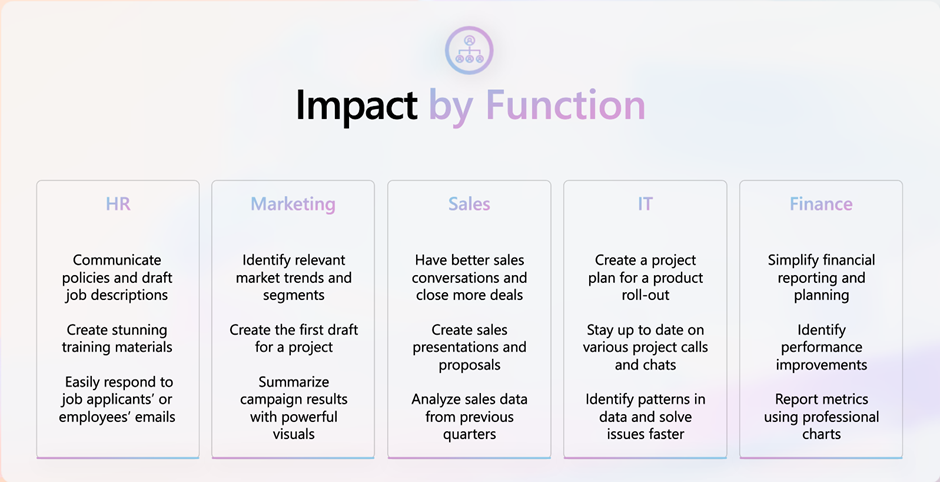 Despite its complexity, early adopters highlighted several benefits, including:
A noticeable reduction in time spent on mundane tasks.
Enhanced productivity, freeing up time for more meaningful work or personal pursuits.
A decrease in time spent searching for data/information.
Reduced time preparing for, participating in, and following up on meetings.
Improved decision-making capabilities, with Co-Pilot acting as a coaching tool for teams and individuals.
Enhancements in work outputs, such as presentations, reports, and analysis.
Increased morale due to engagement with exciting, new technology.
However, it's crucial to note:
The model's effectiveness is heavily dependent on data quality and access control.
Adoption concerns and "Skynet myths" need addressing, as not all users are on board with this new technology.
M365 Co-Pilot is a product, not a project. Its adoption and value will evolve over time.
Early Conclusions
The potential of M365 Co-Pilot is immense, and its capacity to change the way we work is undeniable. While its initial availability is limited, this technology is part of a larger digital revolution. Based on the rapid adoption of technologies like Chat GPT, we anticipate seeing change at an unprecedented pace.
The opportunity for competitive advantage is substantial, but so is the risk of being left behind. My advice? Don't ignore it.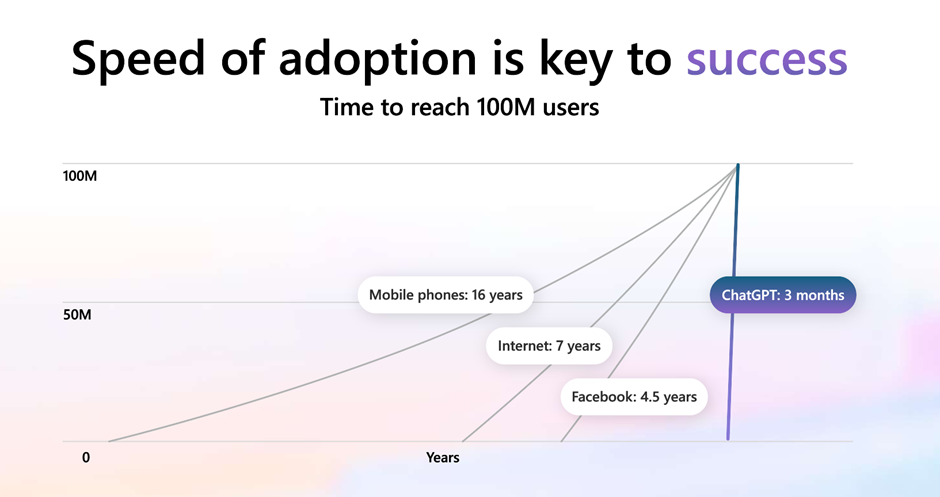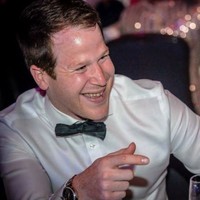 About the Author: Mike Starnes
Mike has worked in the IT Industry for over 20 years. If he's not talking technology, he'll be reading, playing football or trying to embarrass his daughters.